https://www.freepressjournal.in/analysis/healthcare-using-a-band-aid-for-a-surgical-operation/1511755
Healthcare: Delicence medical education; don't offer bridge courses instead
In some ways this was to have been expected.  Last week the government suddenly proposed through Niti Aayog, its policy advisory arm, that it would soon invite discussions with representatives of the medical profession for promoting a 'Bridge Course' to create cadres of mid-level health practitioners.  Niti Aayog plans allowing dentists to practice mainstream medicine in various health centres.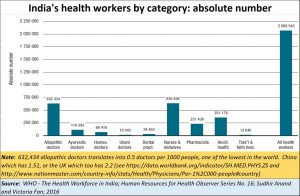 According to media reports – there is nothing reported on Niti Aayog's website http://www.niti.gov.in/ – it wants to allow dentists (BDS certified) to practice mainstream medicine (MBBS – or allopathy) in various health centres. Niti Aayog, along with the health ministry, is believed to be examining such a proposal. particularly in areas where there is a crisis of MBBS doctors.
The Indian Medical Association (IMA) immediately condemned such a move. Dr Santanu Sen, national president of IMA, declared that there is no shortage of doctors in the country. "Around 63,250 MBBS graduates come out of 494 medical colleges in the country. But India has only 23,729 post graduate seats," Dr Sen said. "The fact remains that the government does not have the capacity to absorb the rest of them. Every year the unemployment among young medical graduates is a great cause of concern. The frustration of these youngsters with an undergraduate degree has to be addressed first."
In fact, both Niti Aayog and IMA appear to have missed the basic point.  First, yes, there is an acute shortage of medical practitioners in the country (see chart alongside).  Second, as reported by this author in February this year (http://www.asiaconverge.com/2019/02/the-budget-does-not-care-for-human-capital/), one of the reasons why India's ranking on the World Bank's Human Capital Index is terribly poor is on account of its unwillingness to invest in education and healthcare.  It refuses to de-licence the medical education sector to meet the increasing shortage of doctors in the country. Third, many doctors remain unemployed because many doctors just don't have the required skills, even though they are certified as doctors. So why degrade the quality of doctors further?
In fact, the government had, even in March 2018 (https://www.freepressjournal.in/mumbai/indian-medical-association-calls-for-all-india-doctors-strike/1245708) tried to introduce another form of bridge course which would allow practitioners of ayurveda, homeopathy and unani medicine to become full fledged doctors.  Even then the IMA called for a nationwide strike challenging the government for trying to degrade education by opting for bridge courses.
In February 2018, a senior official of the finance ministry tried to justify the introduction of bridge courses.  He was asked if the government would also be willing to consider bridge courses for converting government clerks into IAS officers or into judges?  The civil servant wisely opted to remain silent when countered with this proposal.
With the Bridge Course proposal for homeopaths, ayurveds and Unani practitioners being challenged in the courts, the government has now sought to introduce a new strategy – of trying to convert dentists into general medicine practitioners. This is unfortunate.
Instead, the government could have made a simpler more effective move. It could have de-licenced medical education.
In order to enforce quality standards, it should focus on the quality of outcomes, for which the government or the IMA could hold another all-India qualifying examination.  To doubly enforce quality standards the government could even propose that existing medical colleges be taken away from managements, along with land, building and other assets, and transferred to the management which has consistently met outcome norms.  That would compel managements to pay more attention to the quality of teaching and training, and less on just making money.
Today, as data from the World Bank shows, India has fewer doctors per 1,000 people than Pakistan, Sri Lanka or China (http://api.worldbank.org/v2/en/indicator/SH.MED.PHYS.ZS?downloadformat=excel).  This needs to be addressed first.
So forget bridge courses.  Focus on quality ad increasing the student throughput of medical colleges. Delicensing primary schools and medical colleges is urgently required. Measuring outcomes would be the next automatic step, including penalising managements that waste students' money and time and offer substandard education.
This will undoubtedly invite immense resistance, especially from moneybag-politicians who have funded medical colleges, and turned them into centres for profiteering.  Capitation fees alone, in some of them, have soared beyond the Rs.1 crore per seat mark. Compare this with China where a student can complete five years of medical education – with better teachers and facilities – at a cost of under Rs.15 lakh (for all five years inclusive of tuition, boarding and lodging, but not airfare).
It is here that India's policymakers have failed the country.  Without doctors, even Ayushman Bharat will become a scam (http://www.asiaconverge.com/2019/04/doles-freebies-will-result-in-corruption/). More good doctors and reasonable costs are the need of the hour, not bridge courses.
Comments can be posted to RNB@asiaconverge.com