https://www.freepressjournal.in/business/of-men-morals-and-madira-is-the-government-doing-enough-to-tackle-the-liquor-shop-issue
Covid-19 – of men, morals, madira and home delivery
RN Bhaskar  — 14 May, 2020
This article must be read alongside another written for FPJ last week (https://www.freepressjournal.in/india/morality-is-fine-but-liquor-is-quicker-why-opening-of-wine-shops-amid-pandemic-raises-serious-questions).  At that time, there were indications that Maharashtra would lift the lockdown for hardware and electronic stores.  But that did not happen.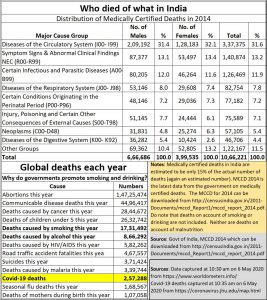 In the meantime, the Supreme Court also ratified a view held by this columnist that liquor should be sold online.  Some states like Delhi and West Bengal – which are not liquor producing states – were only too keen to begin online sales.  But states where politicians have a nexus with distilleries – opted to stay quiet.  One does not not know which way they will move.  They obviously do not want to leave behind an electronic trail for liquor sales – much of which is in cash and without receipts. At the same time, they know that challenging the Supreme Court advisory will not be easy.
However, the central government's decision to allow all liquor shops to be open was obnoxious for two reasons.
First, liquor is being considered more important than other shops.  Even to date hardware (electrical and plumbing) and  electronic shops have not been opened.  This is even after at least four buildings in Mumbai have caught fire recently because of faulty wiring. Clearly, the government needs the liquor money.  But daily-wage-earners in shops and establishments also need money. Why does the government think of itself and its politicians and not of the daily wage earner?
Second, the government sought to promote liquor sales even while concealing the fact that liquor causes more deaths than Covid-19 does.  India's data sources do not provide this information.  But global data sources do (see table).
That puts the magnifying glass on other money deals that the caused the government to shelve sensible ideas. What India requires is a lot more of transparency.  Of numbers relating to the cause of deaths. Of policies designed specifically to ramp up the country's crumbling health and educational capacities.
Meanwhile, the sheer inadequacy of health services have made slum-states like Maharashtra even more vulnerable than ever before.
It is now compelled to send on leave policemen above the age of 55 because more policemen are now testing positive for coronavirus (most don't even have PPEs). Even younger policemen who have got infected are being quarantined.  Yet the demand for the police is growing. It is needed to handle the migrant worker situation.  And to enforce the lockdown of slums that politicians promoted.
Now these states may have to fall back on their reserve forces. Either way, these states will be compelled to quickly increase the numbers of medical seats at government hospitals, and also the number of hospitals with good medical facilities.
Linked to all this is another petition before the Supreme Court requesting it to direct state government to get their jails decongested. For instance, Mumbai's Arthur Road jail has 2,600 inmates, while it is supposed to accommodate only 804 (https://www.freepressjournal.in/mumbai/77-positive-prisoners-shifted-to-mahul-from-arthur-road-jail). Not surprisingly, around 77 of the prisoners contracted the infection and were shifted to empty buildings in one of Mumbai's suburbs. Overcrowding is rampant in almost all of India's jails because people are being locked up as undertrials and not because of convictions. The pandemic has exposed this seamier side as well.
The congestions in jails can be easily solved.  Just sell off jail lands inside the cities. Many jails occupy precious land, State governments should auction that land, and use the proceeds to build larger and better structured jails outside city limits.  States will then have more humane jails, less overcrowding (inmates could testify via video-conferencing, thus preventing jail-breaks and transportation costs), and still be left with considerable money to plan other projects.
The only reason why this has not been done, according to some informed sources, is that bureaucrats and politicians want the land for themselves, hence don't want it auctioned.  Once again, money and greed sabotage good solutions. Covid-19 has begun to show up these warts and pimples as well.
Meanwhile, the government at the centre continues to drag its feet over allowing ecommerce services – the only way to preventing crowding of marketplaces and also promoting social distancing.  Clearly, the government is hungry for the perquisites of power through the votes of traders.
That does make the government's  claims of being concerned about human lives sound a bit hollow.  The best way to prevent people from going to markets is to focus on home delivery.  Ecommerce companies were doing this better than most people could have imagined.
The restrictions on ecommerce companies could become the second biggest contributor to the Covid-19 deaths. The biggest contributor will remain poor medicare facilities, and too few doctors, most of them underpaid and uncared for.
Comments can be posted to RNB@asiaconverge.com