Gujarat Giants shine in the Ultimate Kho Kho league
Kho Kho, a traditional Indian sport has been brought back into the national spotlight in a slick, spectacular, and professional avatar.
"In every game, there are two aspects which are of utmost importance," says Sanjeev Sharma, the coach of the Gujarat Giants, describing what he looks for in an athlete. "The first one is being physically strong and the other staying mentally strong throughout. And it's often the latter aspect that becomes the deciding factor for a team."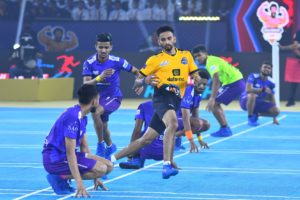 The Giants, despite a recent defeat to the Odisha Juggernauts, their first loss in the Ultimate Kho Kho League, are top of the table in this exciting new competition.
A traditional game, Kho Kho is arguably the most popular indigenous outdoor sport after kabaddi. Just as kabaddi exploded in popularity and visibility when it was televised in a league format, so the objective is to show kho kho's qualities to a wide audience, show it to be tough, dynamic, fast-paced, and compelling. The debut edition of the Ultimate Kho Kho League was recently inaugurated amidst much fanfare in Pune, Maharashtra.
In its inaugural edition, six evenly matched teams from across India – Gujarat Giants, Telugu Yodhas, Odisha Juggernaut, Chennai Quick Guns, Mumbai Khiladis, and Rajasthan Warriors – will be give tough competition to each other and only one will emerge victorious.
Despite the Giants' loss to the Juggernauts, Sharma says the Giants still top the league because of the hard work, dedication, and perseverance shown by every member of the squad. "Be it a practice match or a primetime match," he says, "the entire team puts their hearts and souls into each performance, and that's our biggest strength."
Ranjan Shetty, captain of the Giants, echoes his coach. "The pressure of a game is not just borne by the captain or any one player," he says, "but by all the 12 players equally. This kind of team spirit is not easily found." He adds though that there is still room for the team to improve. "While we are very good when it comes to attacking," he says, "we need to shift more focus onto our defence. We constantly work on strategies and think about how best to approach our games."
Whether on the field or off the field, coach Sharma says, a diverse squad is beneficial, "We have an eclectic mix of senior and junior players. The senior players are constantly guiding and motivating new players, while the younger teammates are very receptive to the guidance and the training given by me, Ranjan, and other senior players. It's good to see how easily they adopt new techniques and adapt to new environments."
Handling the pressure while playing under bright television lights and in front of large, noisy crowds takes a certain kind of personality. Shetty says composure is critical to being a successful athlete. Along with physical fitness, he says, the team regularly do exercises to strengthen their mental and emotional well-being. It is important, Sharma says, that players are free from stress, or at least learn how to leave their stress off the field.
As the team prepares for their upcoming matches and the possibility of becoming the Ultimate Kho Kho League's inaugural champions, Sharma cautions that there is "still a long way to go." None of it, he adds, would be possible "without the unwavering support of Adani Sportsline and its professional structure that enables us to get on with the work of winning matches."
Comments can be posted to RNB@asiaconverge.com