The word 'Inspiration' perfectly fits Jilesh Ramesh Chandankar ,a teenage boy.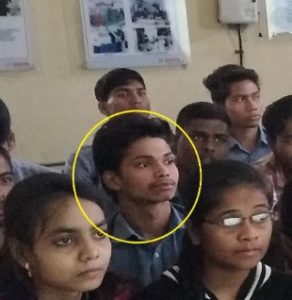 The word INSPIRATION perfectly pertains to this teenage boy, whose gutsy facing to the noxious challenges of life. He is brave, he is gallant. He is Jilesh, a boy from Sonpuri village who scored 76.5% in 12th board exam and following this, he got admission into ITI, Tiroda with the belief that it would earn him a job and a salary which he would utilize to aid his parents. His dauntless facing life will let you muse how bold is he because he used to come to his institution by walking 5 Kms every day. His father worked as a labour in agricultural fields, while his mother does house hold chores. Living among three other siblings, money was tight in the household with his father earning a salary of Rs 8500 per month.
Before getting in to the Digital Literacy training, he used to go to the bank with great difficulty because it is around 25 Kms far from his home. However, in the digital literacy program, he learns how to safely use mobile banking and how easy it is. Now, he no needs to cross that long distance between his home as, he does all transaction online. The good thing about him is that he not only keeps his knowledge with him but he shares it with his siblings and tells them about do's and don'ts of Cyber security.
Comments can be posted to RNB@asiaconverge.com