Yutika Bharti was searching for skill development courses and got to know about Saksham.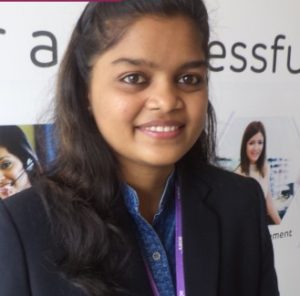 Yutika Bharti, a B.Sc. Graduate girl was looking for job experience and learn something new in her life to improve her skills, as she took a drop from her studies for a year after graduation. Her father handles business and earns an  amount of 10,000/- per month. Her father is a great inspiration to her who suggested her to join skill  development classes and enhance her skills.
She was searching for such skill development courses and got to know about Saksham from a Job Fair. She wanted to choose something different from her field and wanted  to improve her Communication & Speaking Skills. She opted for Telecom Trade. She has completed her training successfully with very good knowledge about Telecom  Sector. also completed OJT successfully.
She applied for a trainer position at ASDC and out of 25 other experienced  candidates, she was able to crack the final round of interview and was selected as a trainer for Telecom at ASDC Surat. for Telecom at Saksham Surat. "Saksham is turning point of my life. I was hardworking but couldn't find the right place to work hard till I came to know about Saksham. Now I am Saksham to support my family and live a life of Dignity" – says Yutika Bharti, Surat.
Comments can be posted to RNB@asiaconverge.com