Karishma enrolled for the GDA course and got a job after completion.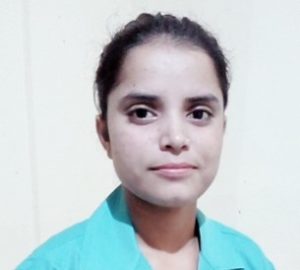 Karishma comes from a village near Bhandara district. She lives with her parents and with her brother and sister. Her father is labourer and her mother is home maker and her sister is searching a job. Her family income is Rs 8000 which is very less to run for a family.
Karishma completed her B.A. 1st Year. In her spare time she hangout with her friends .Her capability was appreciated by everyone so one day of her friend handed her pamphlet of ASDC and ask her to join to guide her in the current path .
Karishma visited our ASDC, Tiroda centre and enrolled herself for GDA course. She was sincere and punctual student and always paid attention in all small detail taught to her. She performed well at her practical sessions. She also did OJT (On Job Training) at Sub district hospital Tiroda. After completing the course she faced the interview and she was selected in Portea Health Care Hospital Mumbai with CTC Rs 9000 per month.
Karishma says "I joined ASDC as a trainee and now because of ASDC I got an identity of my own. I am equally treated in a family and I contribute enough to support my family for a living."
Comments can be posted to RNB@asiaconverge.com