Mangesh Rajendra Sawankar was enthusiastic in gaining the skills.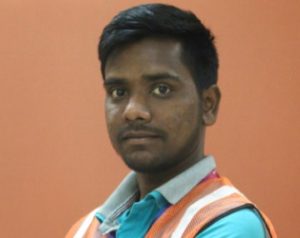 Rakesh belongs to a small village in Maharashtra. His father is a daily wage laborer who works for a construction company. His father is the sole bread earner, mother is a house wife and younger sister is studying. Their monthly income was 3,500\- and with this little amount it was difficult to make their ends meet.
Rakesh came to know about SAKSHAM through mobilization at his area and instantly wanted to join Welding Technician course so that he can earn money and can support his father. He enrolled himself for Welding Technician as he thought there is career scope in this field and he was not wrong at all.
He never tried to miss any class and was very enthusiast in all activities, so he could gain more and more knowledge.
He was very happy that he took the course where he gained knowledge and had many practice session to improve his skills and to overcome the hindrances of his course easily.
After completing the course, he gave interview and placed in PIAGGIO Vehicle Pvt. Ltd. Baramati, as welding technician with a monthly income of Rs. 9,800/-.
Comments can be posted to RNB@asiaconverge.com