Minal Pathak faced huge challenges in her life and Saksham helped her give a meaning.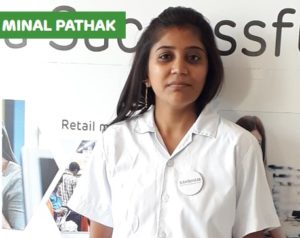 Minal comes from background where she has faced huge challenges in her life so far. She lost her mother at early age and she was solely taking care of her family after her loss. After few years, she came to know about Adani Skill Development Centre and its project "Saksham" and enrolled herself in GDA (General Duty  Assistant) course.
During this training she again faced personal challenges to attend classes with her6yearoldchild'sresponsibilitiesbutshecompletedthetraining successfully. The exposure of OJT (On the Job training) at Lifeline Hospital made her so confident and competent that she was able to crack the interview in the same hospital during this OJT and started earning.
Now within 6 months of completion of her training she grew in her career by getting a higher salaried job at BAPS hospital in Surat due to the skills that she was able to develop during this short term training. Today her earning has enabled her to live a healthy life and is able to take care of her child's education on her own.
"I'm thankful to Saksham for helping me to stand on my own and live a life of self-respect " says Minal Pathak
Comments can be posted to RNB@asiaconverge.com