Meena Ben Karadiya has wore the most beautiful attire that is 'confidence'.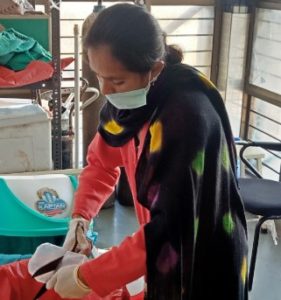 This young lady has worn the most beautiful attire a lady can wear which is of 'Confidence' and with utmost responsibility and pride, she shares her life experience to inspire the youth specially young girls to become industry ready and capable enough to work in any condition of their life.
Meenaben has lost her husband in young age. She belongs to a place which is having rich cultural of handicrafts and Bharat work (form of stitching) where girls and women possess no hobby and know nothing except cooking and stitching. SAKSHAM encountered with a group of widows of one village near Bhuj city and Meenaben was one of them, who got information about GDA (General Duty Assistant) course running in Bhuj where not only technical training but actual skill education is being imparted along with placement assistance.
What happened next has created a huge impact in Meenaben's life. She joined course in the month of December 2018 and presently doing her OJT in G.k General Hospital.
Meenaben says " I am glad that I got learning opportunity in ASDC centre, I made new friends here, I got meaning of my life and now I look forward to work and live a healthy and independent life".
Comments can be posted to RNB@asiaconverge.com