ASDC proved to be boon for Vaijantimala Kale.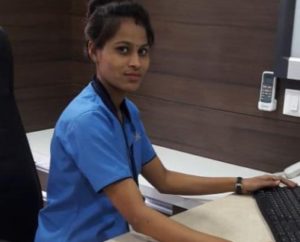 General Duty Assistant is a training program which proves as a boon to many women in our ASDC centres. Surprisingly and happily! We have maximum female beneficiaries in GDA Course. Why so? Because in Gujarat there is huge scope for them to get good employment in Patient Assistant job role in reputed hospitals.
GDA is one such course where Vaijantimala enrolled herself, a girl who was spending good married life and joined course only to explore something new, not knowing she will endup getting life changing job opportunity in HCG Hospital located in Mithakhali immediately after clearing her exam earning well around 10,000 to 11,000/- month.
Her trainer Mr Praveen says "Vaijantimala is such a dedicated lady, inspite of household responsibilities, she managed well to come to class timely, study for exams and hang on with same enthusiasm to learn throughout her training tenure. I wish her all the best for her future".
Achievement
Recently, she received Best Nursing Attendant Award from H.C.G Hospital. ASDC is proud of Vaijantimala and her dedication towards work.
Comments can be posted to RNB@asiaconverge.com