Rashmi participated in all the activities at ASDC.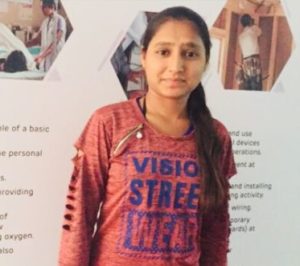 Rashmi lives at Nava Vadaj with her parents. Her father is a Tempo driver and mother works at construction site as daily wage laborer. She got the pamphlet of SAKSHAM distributed at her house and her parents suggested her to join GDA course.
She visited the centre and she saw that there were many students who were studying the course which she had selected, General Duty Assistant. She was regular in class and was attentive and participated in all activities which gave her more exposure to the course. This success at centre had guided her in choosing correct path of course to study further. She is presently studying in her field GNM (General Nursing Midfery) at VS Government College.
Her trainer states "I am happy that I was able to guide and help her to enhance skills which were deep inside her".
Rashmi concludes stating "I am very grateful to SAKSHAM & ASDC for giving me this wonderful platform to explore my skills. I would definitely suggest my friends and relatives about ASDC who wish to accomplish their goals in life".
Comments can be posted to RNB@asiaconverge.com