Shubham always wanted to improve his standard of living.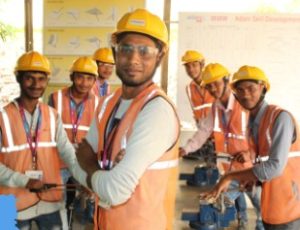 Shubham lives in a very remote village at Sukadi with his parents. He comes from a family facing financial crises. His father is handicap; hence he was not able to work.
His family income was below Rs. 3500/- per month. Shubham tried hard to find a suitable job to support his family but due to his incomplete education and lack of skills, he couldn't succeed. Soon, His Gram Panchayat Sukadi gave him the news about Adani Skill Development Centre's special project Skill Development Training.He was provided with amenities like food, accommodation facilities and most importantly, linkage to placement opportunities. Shubham could see a ray of hope for the future. Determined to choose the right path to succeed in life and make a respectful earning to support his family, he decided to enroll himself at Adani Skill Development Centre. Beating all odds, he took up a three months skill training course in welding.
Trainers at Adani Skill development Centre found Shubham to be a strong and focused boy who possessed the passion to excel. Post his training, he has been placed Ohsung Pvt. Ltd. Ranjangaon, Pune as Welder and is drawing a monthly salary of Rs 10,200.per month.
After getting job, he was sure , he will improve the standard of living of the family and generate enough income which would satisfy his family needs.
"I shall always remain thankful to ASDC, Tiroda for providing opportunity that it has been provided to youth like me" says Shubham.
Comments can be posted to RNB@asiaconverge.com