Learning English and Communicating fluently was the main challenge that Sangpal faced.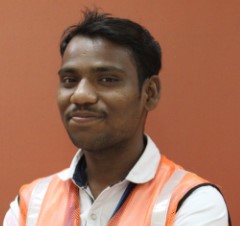 I am able to take care of my family, my parents are proud of my achievement and the financial assistance. "Sangpal, a 19-year old modest boy from Parsodi village, Dist. Bhandara was in desperate need of a job. Hailing from a poor family, he completed his education up to the 12th grade and thereafter, quit his studies with a yearning to work and help his family. He was determined to do something meaningful to build his carrier. Eventually, Adani Skill Development Centre, Tiroda presented him with the right opportunity.
Sangpal learnt about the Adani Skill Development Centre programme through a mobilizer and participated in the course with the enthusiasm which had an immediate impact. Learning English and Communicating fluently was the main challenge before him in the beginning. He is now working with Ohsung Rajnangaon Pune and earns Rs.10200/- per month. Part of which he sends home to his parents.
Adani Skill development Centre Tiroda has changed his life, says Sangpal. I am helping my family financially and I am also able to save money for the future. I am thankful to ASDC Tiroda for a turn around in my life".
Sangpal says that, he is now an independent and responsible young man, and is immensely happy that he has been skilled to live by himself. More focused towards his career, he aspires to complete his graduation through distance learning.
Comments can be posted to RNB@asiaconverge.com