Singila Devi made sure that she stitches best quality clothes.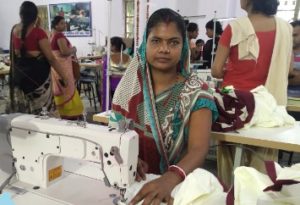 A 35 years old Singila Devi comes from a small village called Khatnai of Godda District. Her family comprises of 5 members.
Singila Devi does not have any life skill which can get her employment. It was during March 2019 that she came to know about the Skill Development Centre. She got enrolled for Tailoring trade and started her training program. She mentioned" At the beginning I was a bit nervous because that was my first time to experience about stitching using sewing machine. But my trainer made me comfortable and pointed out that there are other women who are slow learner as well. At this age, I have to make my brain working fast in order to learnt this life skill. I was worried for sometime but I managed to pick up the pace in 15 days time. I started to stitch on my own by the end of two weeks. Yes my speed was slow compare to others".
Since joining the Centre, she dedicatedly worked and developed her skills of tailoring effectively. Now that she stitches so much a day, she has earned more than 10000/- rupees within couple of month's time. Singila Devi quoted, "I put my best effort to compete with my other fellow women members in the Centre. But also I ensure that my quality of work shall not hamper. There was no complaint made by my trainer on the quality matter. It gave me confidence that I am competent enough now. I am able to purchase books for the new academic session for my children. My husband acknowledges my hard work which actually boosts my confidence as well".
She continues, "I will utilize this opportunity at maximum and try to make earning as much as possible and continue to support my family. I feel life is much more beautiful when you have peace in mind. This Centre has provided me that sense of accomplishment. I feel there are other women in this life whose situation is much worse than me but happily earning. I feel part of the family now.
Comments can be posted to RNB@asiaconverge.com