Manisha Kumari desires is to pursue higher education.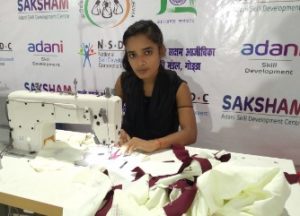 Manisha Kumari belongs to Choti Lobhanda of Godda district. She is currently pursuing her ITI (Electronic) Trade at Sikitya in the morning shift. Since the financial condition of family needs to be strengthened, she also manages to utilize her leisure time into quality time by getting herself enrolled in Adani Skill Development Centre tailoring trade at Siktiya site.
Manisha Kumari is talented enough to seek new knowledge and skills whatever comes her way. She found interest in tailoring course and imbibed the required skills in due course. She started to stitch independently grabbing the attention of her trainer. When asked about her training program, she mentioned, "I knew nothing about tailoring but now I do. I am aware about the process of stitching and confident enough to take up as a profession so that I can generate income for my family members".
So far, Manisha Kumari has been able to earn Rs 4429 by stitching 25 pairs of clothes. When she disclosed about her achievements in the family, everyone appreciated her. She is now in a position to support her father in generating income for the family.
When asked about her future plan, Manisha Kumari told, "The desire to pursue my higher education is not finished yet. Yes I will earn for now and save money. Once I am in a position to save adequate amount for my admission, I will continue my studies and at the same time earn through tailoring. I wish to have sewing machine of my own and I hope I will someday have one too. My priority is to enhance the money inflow for my family and gradually progress. I am still young and I will do my best to have a better life further and still I want to see myself as teacher one day."
Comments can be posted to RNB@asiaconverge.com