Choti Kumari started generating income to overcome the problems she faced.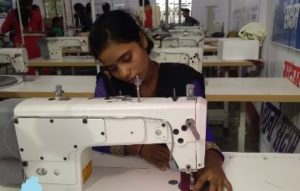 Choti Kumari, a 17 year old, comes from a poor socio-economic condition family living at Dumariya Village of Godda district.
Adani Skill Development Centre at Siktiya location has provided an opportunity to Choti Kumari to immediately involve in income generation activities and send her to Press department. In this department, the stitched clothes from the tailoring department got processed to press department.
Choti Kumari is associated with ironing department since April 2019 where she comes to centre and works for 8 hours a day. In initial phase, she was able to iron 100 plus clothes but gradually adapted to achieve 150 clothes on an average. For each cloth she iron, an amount of Rs.1 paid to her. Thus, the average income that she could earn was Rs.150 per day.
Verbatim:
"Since the day I got an opportunity to generate income, I have made up my mind to save money and get it in bulk amount. I know we face so much of problems at home. Our requirement and demand are too much. But I cannot spend this money as per my wish. I thought of getting it in bulk and purchase medicine for my father at the first place. Since my mother is working at farm, her income from farm was not much. We could hardly manage to get rice for our own consumption. So, if I could continue and work like this, I will save money and support my elder sister to help her to get married".
Comments can be posted to RNB@asiaconverge.com