Xiaomi addresses a customer's grievance
On 7 July 2023, Xiaomi sent to my residence a replacement for the Redmi Lite2 watch that had stopped working.
Under normal circumstances, I would have gone to the service centre as required and got a replacement (https://asiaconverge.com/2023/06/customercare-at-xiaomi-sucks/)
But someone at Xiaomi goofed.  They sent me the address of a service centre which the company said had been assigned responsibility for my case.  I was also sent a Google Maps link.  But when I went to the location shown on Google maps, I discovered that there was no Xiaomi service centre.
So I proceeded to the address that had been given, five minutes away by autorickshaw, and I found there was no Xiaomi centre there either. Attempts to call up the number provided did not elicit any reply.  I was furious.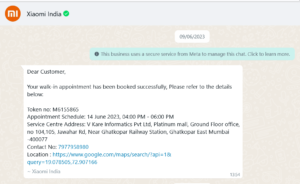 Making amends
I wrote to Xiaomi, and insisted that the replacement should now be sent to my residence instead, as the fault was Xiaomi's.  The local staff resisted.  They said that they had no procedure for delivering it to my residence.  I persisted, and decided to escalate the matter (https://asiaconverge.com/2023/06/xiaomi-is-disdainful-about-customer-service/).
The escalation was effective.  The senior management of Xiaomi contacted me,  apologised profusely, and sent me the replacement. I am glad that the management took prompt action.  I was told that action would also be taken against the errant staff, for causing me so much of inconvenience and distress. I accepted the apology and assurance graciously.
Looking back, I realise that sometimes electronic products can give problems.  I am also aware that mistakes can happen.  I am also familiar with the way junior staff can try to get belligerent than admit to mistakes.  What was redeeming was that Xiaomi, at no stage, stopped responding to my emails. Equally important is that the senior management of Xiaomi promptly agreed to replace the product.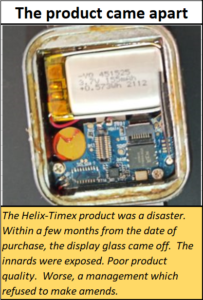 The case of Helix/Timex/Titan
The manner in which Xiaomi redressed my grievances was in sharp contrast to the way Titan/Timex/Helix refused to even respond to emails, let alone accept responsibility (https://asiaconverge.com/2023/03/the-corrosion-at-helix-timex-titan/). A wall of silence greeted me, when I began complaining about the product. It was both irksome and shocking.  It refused to respond even when the complaint was put out through social media.  It appeared that the management was impervious to the problems customers face.
The watch had poor software.
It tried to mislead customers about the serial number – which was different on the watch and on the app.
And its product collapsed.
To date, the management of Helix, which is owned by Timex, has refused to either reply, or replace the defective watch with one that does not have the defects listed above. Emails to Timex too elicited no response.  And Titan, to whom all emails were copied, maintained a horrifying silence. Titan has a vicarious responsibility because it once had a collaboration with Timex. Even after the collaboration ended, Titan continued to sell Timex products through its retail stores.  I purchased the product, thinking it was backed by Titan, a Tata group brand.

When the Xiaomi case got resolved I realised that a major difference between an American Timex-Helix, and a Chinese Xiaomi is that the latter addresses grievances of its customers. Another difference is that Xiaomi's products are excellent and value for money at similar price points. Xiaomi is also willing to acknowledge its fault, and promptly redress the situation.
That is why I will continue to opt for a Xiaomi/Redmi product rather than a Timex / Helix / Titan product.  I am aware that Titan is a great brand.  But its unwillingness to reply to emails of customers earns it a black mark.
Thank you, Xiaomi, for reaffirming my faith in you.
Comments can be posted to RNB@asiaconverge.com