Stories and analyses about Sri Lanka which India should pay heed to
RN Bhaskar
This time, there is no policy watch, my weekly column.  One reason is that I have been travelling through Sri Lanka for the past six days with little access to my PC.
A second reason is that there are some issues about Sri Lanka that are worth talking about. And why India should also know more about them.
First, the country has had a bad patch lately.  It had a civil war,  Then the pandemic that hurt it grievously.  Then there was the financial crisis that hit Sri Lanka hard, more than most Asian countries. It is now regaining its balance, and its entrepreneurs are raring to go.
There are things that are happening that must be talked about.
There is the road show on the Port City (www.portcitycolombo.gov.lka), a new SEZ – actually more like an international finance centre than a manufacturing hub – that is likely to make headlines in India soon. I have been there, and I would like to write about what makes it tick.
Then there are new initiatives that the garment industry has been engaged in.  Unlike India, or the more formidable Bangladesh, or even the tenacious and agile Vietnam and the Phillippines, Sri Lanka's entrepreneurs have been excellent in climbing up the value chain.  This is something that must be talked about partly because India has lessons it could learn from Sri Lanka, and also because of the manner in which the Sri Lanka big garment exporters are structured.  For instance there is MAS Holdings (https://www.masholdings.com/), which has several specialised clusters making specific ranges of garments.  Together this group employs over 96,000 people, almost double that of its next largest competitor in that country.  The industry in Sri Lanka employs around 350,000 people (plus another million indirectly) and accounts for annual exports of  $5.6 billion.  These columns will feature interviews with some of the key people in this industry,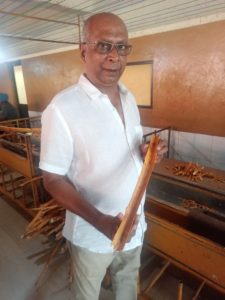 We also take a look at the cinnamon industry, where Sri Lanka towers over other cinnamon producers in the world. We shall be interviewing exporters who are active in this field,  including Wijitha K. De Zoysa Jayatillek (https://www.sdsspices.com/). Expect some exciting details that throw light on some of the key challenges confronting this industry, and how the world has been gulled into using cinnamon surrogates that are not really good for health.
And yes, we shall also take a look at Sri Lanka's boat industry.  Few Indians know much about this.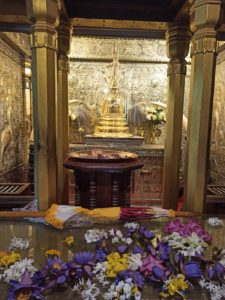 We will also be taking a look at some of the famous temples in Sri Lanka including the Kelaniya Raja Maha Vihara or Kelaniya Temple, The Ravana waterfalls (also called Ella waterfalls), and the Ashoka Vatika where Sita, wife of Lord Rama, is supposed to have been held captive by Ravana.
In fact, the Kelaniya Temple is also famous for another reason.  It is supposed to be the place where Vibhishana, brother of Ravana was annointed king by Lakshmana, on instructions from Lord Rama.  But today, locals revere it as a Buddhist temple, partly because the majority of Sri Lankans are Buddhist.  Moreover, this is where Lord Buddha himself stayed and preached.  According to legends the Kelaniya Stupa enshrined a gem-studded throne on which Buddha sat and preached. Buddha visited Sri Lanka on at least two occasions.  During his second visit to Nagadeepaya, Sri Lanka, was in the fifth year of enlightenment. He was there to settle a dispute between two Naga Kings, Chulodara and Mahodara over the possession of a Gem Studded throne. After having listened to the Dhamma sermons by Buddha the Naga kings paid homage to Buddha with overwhelming faith and the throne was offered to Buddha by two Naga kings.
These columns will also deal with two projects that have vexxed India – the Hambantota port and the Matala airport.  But more about that later.
So don't be surprised if you see such articles interspersed among the policy watch columns that I shall continue to author.
Happy reading.
Comments can be posted to RNB@asiaconverge.com