https://www.freepressjournal.in/analysis/policy-watch-india-will-not-understand-governance-till-uttar-pradesh-is-tamed
India's cross will be the badlands of Uttar Pradesh
RN Bhaskar
"Pity the nation whose people are sheep
And whose shepherds mislead them , , ,
My country, tears of thee
Sweet land of liberty"
Excerpted from Pity the Nation by Lawrence Ferlinghetti (https://www.fresnobee.com/opinion/letters-to-the-editor/article137279578.html)
Uttar Pradesh (UP) is much in the news nowadays. This is despite huge effort on the part of the state government not to be in the news.  When the coronavirus infection rates began to soar in his state, the chief minister ensured that testing labs were not allowed to give test reports to the public (https://twitter.com/andymukherjee70/status/1383233764235517954?s=20) . That was its way of showing that the situation was under control.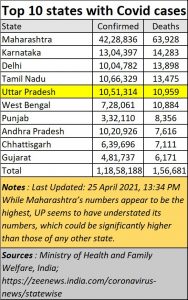 When photographers captured the line of dead-bodies lying inside and outside crematoriums — even though the pyres were blazing away at full capacity —  the immediate response of the government was to erect barricades around the crematoriums so that the line-up of bodies could not be photographed (https://www.youtube.com/watch?v=3sq8j1q8j6A).
Fudged figures
Yet information has a way of spilling out, and now there is good reason to believe that UP has the highest numbers of covid infections and even deaths (one of the sharpest—yet reasoned — criticism of the government's policies came from Parakala Prabhakar husband of Finance Minister. Nirmala Sitharaman (https://youtu.be/Vu2ryLPOME4). Further proof that deaths are being under-reported could be discovered through this tweet (https://twitter.com/Swamy39/status/1384871081169784835?s=20)
This can be gleaned from the table alongside. Just look at the states with the highest Covid cases.  UP comes #5 on this list. But then look at the allocation of vaccines to states. As Rajesh Tope, the health minister of Maharashtra, pointed out on 7 April 2021, (https://zeenews.india.com/india/discrimination-against-maharashtra-in-covid-19-vaccine-allotment-alleges-health-minister-rajesh-tope-2353566.html), the latest release order of COVID-19 vaccines showed that Maharashtra has been allotted 7.5 lakh vaccine dosages, while BJP-ruled states like UP, Madhya Pradesh, Gujarat, Haryana etc. have been given far more vaccines.  In any case, since UP claimed it had only one fourth the infection cases that Maharashtra had, it should have been given one-fourth the number of vaccines.
Thus, either the central government has been partisan.  Or else, it knew that the infection cases in UP were far in excess of what was being claimed. Either way, the situation does not lend comfort to any health policy watcher.  That the figures were being fudged was revealed in these columns three weeks ago (http://www.asiaconverge.com/2021/04/elections-show-contempt-for-pandemic-rules/).
UP's significance
This happens primarily because UP is not just another state. It is the largest state in India. And it has the country's largest population of around 200 million.   It sends up 80 members to the country's Lok Sabha and 31 members to the Rajya Sabha.
With such an overwhelming clout in the parliament, it is possible that the value systems of UP have now begun to influence the very Parliament itself. Look at how the prime minister did nothing to hurt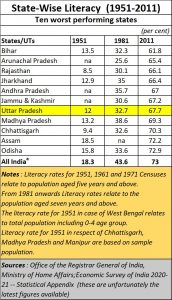 cattle owners while he was the chief minister of Gujarat. Yet, when he became prime minister, and chose UP as the state from where to contest elections, his concern about cattle owners just melted away (http://www.asiaconverge.com/2021/03/india-may-be-pushing-a-wrong-trade-policy/). And it did not seem to matter that the cattle owners got no compensation, or that leather and beef industries would also suffer.  All the three are big employment generators and export earners.  The potential is mind-boggling but UP (through the Centre) is botching up these chances.
Low literacy
One big problem for India is that UP's literacy levels are low (see chart). It ranks among the worst performing states.
True, literacy levels appear to have climbed from 12% in 1951 to 68% now, but there is cause for being sceptical about these figures, even those of national literacy. Do remember that a literate person in India is defined as anyone who can read and write his or her name.  So, if my name is Ram and I know just those three alphabets, I shall be considered literate. The central government's refusal to change the rules for determining literacy – in keeping with norms followed globally – makes one suspect that the central government also loves to fudge figures.
That is why, in survey after survey conducted by NGO Pratham, India's literacy levels show up poorly. For instance, in 2018 (https://img.asercentre.org/docs/ASER%202018/Release%20Material/aserreport2018.pdf), it discovered that only 44.2% of the boys in Std V could read the books meant for Std II.  The score had declined from 53.1 in 2008 to 44.2 in 2018 (http://www.asiaconverge.com/2020/01/pre-budget-series-barbarians-at-the-gates-of-education/).
And everyone knows that if the quality of students coming from schools is poor, the contamination of colleges and universities is inevitable. UP is known to have some of the worst standards in education today (it was the seat of learning in older days). No wonder then that organisations like TCS, McKinsey consider barely 20% of India's graduates employable.  Large law firms believe that barely 1% is employable.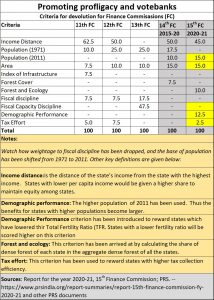 Financial fiddle
But then the government fudges other figures as well. Especially when it comes to financial allocation.  And the purpose of doing this is to ensure that UP remains the biggest beneficiary.  Its importance as a vote bank appears to override all other considerations.
To understand this, just study how the weightages compiled by the 15th Finance Commission have been tweaked.  The Finance Commission decides how the funds collected through taxes are to be shared between the centre and the states; and how much should be given to each state.  And this is where the centre decides that UP and Bihar should benefit.  Both are crucial states for elections.
Observe the highlighted cells in the last column on the right.
First the weightage given to population has been tinkered with.  It has first been moved from the base of 1971 to 2011.  Nothing seriously wrong with that.  But this has been further tweaked by giving a higher weightage to population.  Since UP is the most populous state, it now gets a great deal more.  No incentive for reducing population.
Then observe how the incentive for fiscal discipline has been dispensed with altogether.  Profligacy will be rewarded, right?
Earlier, weightage was given to states that improved their infrastructure.  No longer applicable.
Demographic performance gets a higher weightage, But the tax effort weightage has been diminished.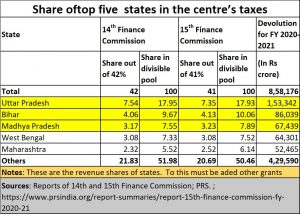 The entire exercise is designed to ensure that UP gets a huge share from the pool of taxes the centre gives away to the states.
The end result? Voila!  The winner is UP.  No prizes for guessing right.
And please remember that this money does not include special grants the centre gives additionally.  For instance, there is a grant for Namami Gange in which UP is the biggest beneficiary.  No surprises if you find that the money benefits existing polluting industries, which often have excellent linkages with politicians (http://www.asiaconverge.com/2020/08/government-plunder-productive-states-in-india/).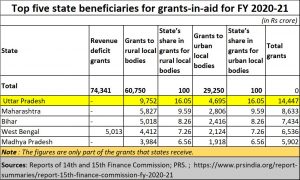 Then there is a grant for upgrading Allahabad, now renamed. And there is a grant for other cities as well, including Ayodhya and Mathura (http://www.asiaconverge.com/2020/09/india-plundered-again-by-tweaking-rules-against-prosperous-states-and-encouraging-profloigacy-irresponsibility/).  The grants to UP far exceed the Rs.14,447 crore given in the tables alongside.
And does this improve the state's performance?  You bet it does not.
Dismal performance
The state has been deceptive in concealing Covid numbers.  It has been deceitful in not paying its farmers the fair price for their produce.  Consider for instance how UP is the largest milk producing state, but it pays its farmers far less than what Gujarat, Karnataka and Tamil Nadu pay to milk producing farmers.  Thus, if the prime minister wanted to fulfil his promise of doubling farmers' incomes, he could have started with milk (http://www.asiaconverge.com/2021/02/budget-2021-has-little-for-animal-husbandry-and-marginal-farmers/).  But then the money not paid to farmers goes to traders and middlemen who are extremely useful to politicians for managing their other expenses – even managing the vote machinery.
Moreover, there is additional evidence to show why UP benefits from money earned by other revenue generating states in South and West India but has stopped bothering about generating money itself.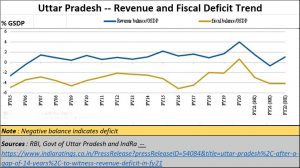 Take the numbers computed by India Ratings, an associate of Fitch.  Observe how, except for a brief period, UP's fiscal balance as a percentage of GSDP has always been in the negative.
What UP has done is that it has impoverished its people, knowing that the income-distance and absence of fiscal-discipline parameters will allow it to get more money from the centre.  The centre obliges because this is the place from where it gets its voting power.  Do remember, that the prime minister has chosen UP as the state from where he stands for elections.
Lust and power
That is also why, the centre is reluctant to expose the sleaze in UP.  The state government, to the best of our knowledge, has not yet provided information about the child care institutions (CCIs) it runs (http://www.asiaconverge.com/2021/04/curse-of-being-an-abandoned-child-in-india/).  It refused to part with this information when the Ministry of women and child development compiled data for the whole of India and submitted its report to the Supreme Court in 2018.  When queried (https://twitter.com/rnbhaskar1/status/1383705744822833156?s=20), the MWCD refused to respond.
This is the state where the most horrendous rape and molestation cases can be found, if and when they are reported.  Thus, the Unnao, Hathras and the Chinmayanand cases might be just the tip of the iceberg. And even after conviction, the BJP wants to promote the family of one of the rapists.  True, family members who are not convicted, cannot be deemed to be guilty.  But when the ruling party promotes such a family which misused its powers, it sends out a horrifying signal to society, and to other law makers.
This is a state where law-and-order is a term used to justifying bullying, fabrication of evidence, coercion of witnesses and victims alike to change their testimony.  The Unnao, Hathras and Chinmayanand cases bear testimony to this.  And it is a state where civil protests the CAA (Citizenship Amendment Act), or farm laws, or cattle trading are confronted with the most draconian of laws – those meant for anti-terrorism, or anti-national activities.  So, the criminal is overlooked, and the civil becomes criminal. Even today, a journalist, Siddiq Kappan  remains incarcerated ever since he was arrested in October last year by the UP police on his way to cover the Hathras gang rape case.
And just a couple of days ago, a man was slapped with criminal charges because he tweeted for help to procure an oxygen cylinder to save his grandfather (https://www.livemint.com/opinion/quick-edit/warped-priorities-11619634443214.html). The state said that he was creating panic.  Is crying for help not allowed?
India's cross
Effectively, UP is a state which could be a burden India must carry, only because morally bankrupt politicians (in collusion with bureaucrats) are more interested in its vote power than in strengthening India. Votes matter. Human lives are dispensable.
So, it does not matter if people in lakh take a dip in the rivers in Kumbh Mela without practising social distancing or wearing masks. Not a surprise also when just a few days ago, the token dip involved around 25,000 people (https://www.thequint.com/news/india/kumbh-mela-pilgrims-gather-for-last-shahi-snan-in-haridwar).  Less than one-tenth that number involved the tablighis, who were pilloried and even charged with arrest for spreading Covid during the first wave.  Not surprising that the courts released all of them, because the charges were trumped up (https://www.thequint.com/news/law/tablighi-jamaat-v-kumbh-mela-politics-of-selective-covid-policing#read-more).  Not surprising that this time no charges were pressed against those who took the token dip in the rivers a few days ago.  They were holy people.  How could they spread the coronavirus?
AtmaNirbharBharat is a great slogan for the hustings.  But scratch below the surface, and you will find sleaze and more sleaze and a willingness to use state violence against anyone who objects.  It is a bankrupt state leading the country itself towards penury.
And this is where both the Election Commission and the Supreme Court can do wonders to cleanse the rot.  The big question is, Will they?
Comments can be posted to RNB@asiaconverge.com