https://www.freepressjournal.in/analysis/shrinking-modi-bjp-even-india
When Modi, the BJP and India begin shrinking
"When small men begin to cast big shadows, it means that the sun is about to set."
— Lin Yutang
RB Bhaskar
Elections for five states are over — West Bengal, Tamil Nadu Kerala, Assam, and Puducherry.  The first three are the large states.  BJP was determined to become the ruling party in all of them.  No less than Prime Minister Modi and his lieutenant Amit Shah personally campaigned in all of them.  Defections were encouraged and rewarded.  Polarisation was attempted. At the end, when counting took place on 2 May, it was clear that the BJP had lost all the three, by handsome margins.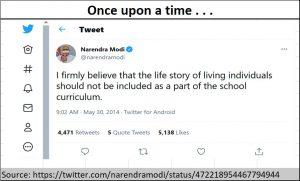 What swung support for non-BJP players is not certain.  It could have been over-confidence, brazen bluster, double speak, the popularity of the local leader or the intimidation of opposition leaders with investigations and raids by enforcement authorities. There will be a lot of introspection and analysis in the coming days.  Or it could just be a matter of different cultures.  An increasingly Hindi belt culture versus the culture of the respective states.
But one thing became clear.  Both the prime minister and his party stand shrunken.  Maybe India too.  Unless course correction is undertaken immediately. There is big trouble ahead.
Megalomania?
People still fondly recall how efficient and painstaking Narendra Modi used to be when he was chief minister.  This author too admired his work (http://www.asiaconverge.com/2010/05/narendra-modis-farm-miracle/ ).  Yes, he did have a penchant for asking public sector units (PSUs) to organise his rallies and his investor conferences. And being imperious as well.
Those were also the times when Modi was clear that work mattered and not self- aggrandizement. When someone wanted to have a chapter on Modi in the schoolbooks, he frowned on such a practice. It was the right decision to take, and he was applauded for this.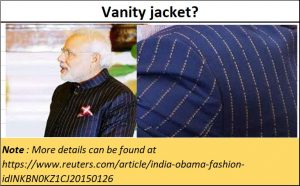 Fast forward to January 2015, when he took pains to exultantly explain to Barak Obama how his faithful followers had presented him with a jacket. The jacket was estimated to cost Rs.10 lakh.  Close-up photographs revealed the words "Narendra Damodardas Modi" repeatedly embroidered into the fabric. Damodardas was Modi's father, a tea seller in Gujarat (https://www.reuters.com/article/india-obama-fashion-idINKBN0KZ1CJ20150126).
That was the first hint of self-aggrandisement. The leader was trying to become more important than anyone else. Public disapproval was withering.  The prime minister immediately decided to auction the jacket and give its proceeds to social causes.
But after that, he has been on a slippery slope.  Regular appearances on television with long speeches.  The decision to send his photograph into space along with a copy of the Gita (https://www.indiatoday.in/science/story/why-bhagavad-gita-photo-of-pm-narendra-modi-names-of-25-000-citizens-will-be-taken-to-space-1769527-2021-02-15). Of course, 25,000 other names were also included, but sending a photograph of the prime minister into space is something none of the nuclear powers had ever done.  It looked terribly vain-glorious.
Then came the news in February 2021 that Motera Stadium in Ahmedabad was renamed Narendra Modi Stadium: Built at an estimated cost of Rs 800 crore, this stadium is spread over 63 acres. With a capacity of 1.32 lakh spectators, it has overtaken the erstwhile largest stadium Melbourne Cricket Ground (https://www.businesstoday.in/current/economy-politics/motera-stadium-in-gujarat-renamed-narendra-modi-stadium/story/432203.html).   It was tried to be justified as being an effort of an individual.  But it was inaugurated by the president of India, giving it an official hue.
If that weren't enough, every vaccination certificate was issued with a photograph of the prime minister.  When opposition parties protested, the election commission ordered that the photograph be removed from those issues in election bound states (https://www.livemint.com/news/india/election-commission-to-centre-remove-pm-narendra-modi-photo-from-covid-vaccine-jab-certificates-11615003211116.html). Effectively, all the other states would be promoting the PM's image.
Then, there is the way the PM Home project in Lutyens continues to move on despite the pandemic. If only that much concern had been paid to oxygen, or vaccines, and similar provision for financial outlays and logistics been made, the death and destruction would not have been so rampant.  But that is what demagogues do.  Their pet projects get taken care of.
Then there is the painful irony behind the personal call the prime minister made this week to the West Bengal governor. He wanted to know what could be done about the loss of five BJP workers in a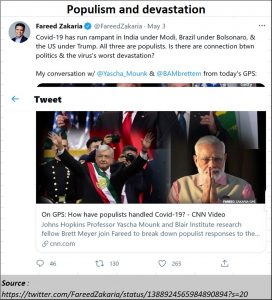 law-and-order situation in the state.  But what about the hundreds of lives that are being snuffed out in Delhi each day? Or the thousands of lives across India? Primarily on account of the government's incompetence.
Demagogues are known to have such glaring blind spots. And there are many other such instances, but the above are good enough indicators of the way Modi has changed since his Gujarat days.
Moreover, as columnist Fareed Zakaria asks in his Tweet (https://twitter.com/FareedZakaria/status/1388924565984890894?s=20) "Covid19 has run rampant in India under Modi, Brazil under Bolsonaro, and the US under Trump. Is there a connection between politics and the virus' worst devastation?"
Consequences
The trouble with self-aggrandisement is that demagogues then expect every courtier to kowtow to their wishes and expression. They value loyalty over efficiency and competence. That causes the courtiers to opt for a willing suspension of any disagreement.  At the same time, since demagogues believe that they are always right, there is an increasing tendency to use high handed means to ensure compliance.  Institutional procedures are thrown to the winds, and draconian laws are put into place.
Sleight of hand is resorted to. Remember how (in March 2018) the FCRA was modified to allow political parties to get foreign funds, with no questions asked, and with retrospective effect for 42 years (http://www.asiaconverge.com/2018/08/amendments-to-prevention-of-corruption-act-protect-corruption/)?
Or take the Aadhaar bill that was converted into an Act by passing it as a money bill, thus requiring no discussion.  It is one of the most rotten pieces of legislation because it does not actually identify, but only pretends to (http://www.asiaconverge.com/2020/11/aadhaar-pan-combined-through-article-139aa-threaten-banking-financial-integrity/).  With its inflated numbers, it could be a nightmare for financial propriety, elections and even security in the coming months and years. Worse is the government's attempt to make this the primary identification document – over even the passport.
Or take the way the Prevention of Corruption Act was modified (http://www.asiaconverge.com/2018/08/laws-increasingly-undermining-war-corruption/), making it well-nigh difficult for anyone to complain about a bribe being given. This is despite the knowledge that corruption has been growing in India.
Or the farmers legislations, which weren't even required (https://www.moneylife.in/article/the-fight-is-no-longer-between-the-good-and-the-bad-but-between-the-corrupt-and-the-rapacious/62370.html).  The existing WDRA could do the job.  All that was needed was to restrain and restrict the activities of the Food Corporation of India (FCI).
Look at the way the government dealt with peaceful protests at the JNU (Jawaharlal Nehru University). To justify the high-handedness, a wild story was concocted about the protestors being the people behind the tukde–tukde-gang.  And the way it unleashed vigilantes (http://www.asiaconverge.com/2021/03/judiciary-v-is-india-a-democracy/) on to the streets to beat up anyone who violated the wishes of Modi or BJP or RSS (the three become indistinguishable).
Watch how many cases were slapped against the tablighis, all aimed at reinforcing the message that Muslims are bad for India and that they must be hounded out. Not surprisingly, almost every case against each of the tablighis did not stand up in court.  The justices had caustic remarks to make about the way evidence had been trumped up (https://indianexpress.com/article/india/tablighi-case-all-foreigners-freed-court-slams-police-says-no-proof-7106554/).
This is what happened in the case of Disha Ravi as well (https://thewire.in/rights/disha-ravi-toolkit-sedition-bail-farmers-protest-khalistan).
Every effort was made to equate protests with anti-nationalism.  Laws relating to sedition, unlawful and antinational activities were brought into play.  Where there were no agitations, the enforcement directorate was roped in to invoke the provisions of the PMLA (Prevention of Money-Laundering Act).
If a person supported a leader of the opposition, it was not unusual to find that PMLA charges were brought to bear against him.  It was the worst way to introduce a sabka-saath, sabka vikas (loosely translated as 'through cooperation we progress').  There was no cooperation, and no progress.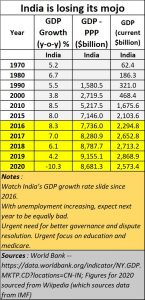 The more one looks at the situation in India today, it is increasing unilateralism that has led to the Covid crisis today.  Encouraging smart alecs to indulge in brinkmanship in order to support the demagogue's causes – like trying to get opposition-ruled state pay more for vaccines — is boomeranging now.  So is the oxygen shortage crisis (https://www.freepressjournal.in/analysis/policy-watch-the-supreme-court-to-indias-rescue-again).
Economic repercussions
What loyalists of demagogues often overlook is that if the prime minister has been successful in his foreign relations, part of the reason is that he had a big market to sell, and to grant preferential access to.  With the economy shrinking, soon there will be no market left to sell.  His ability to swing deals, or even make people listen to him will become less and les effective.
Just observe how the country's GDP growth rates have continued to fall year after year for the past seven years.  Each time, there is a new excuse. A new spin.  But the country keeps sinking.
The first sign of a further erosion in purchasing power is the loss of jobs. The latest indicator is that another 7.5 million jobs have been lost ever since the second wave (https://www.freepressjournal.in/business/75-lakh-people-lose-jobs-in-april-as-lockdowns-sprout-unemployment-at-a-4-month-high-cmie).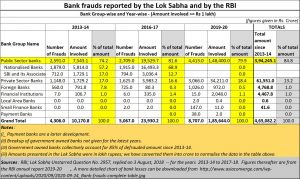 The penchant for easy money has allowed government owned banks to make even more losses since 2014 (http://www.asiaconverge.com/2020/11/pushinng-the-banking-sector-towards-money-laundering/).  The numbers of frauds each year have kept increasing (see chart).  So has the missing money. One way to prevent people from finding out the truth was by ensuring that none of the inspection reports of the RBI, or the list of defaulters with banks were ever made public.
Fortunately, in a big boost to transparency and governance, the Supreme Court in its judgement of April 28, 2021 (Reserve Bank of India vs Jayantilal N. Mistry & Anr..) stated: "Information sought by the Respondents in Transferred Case (Civil) No.91 of 2015 was not given by the Reserve Bank of India (for short, 'RBI') on the ground that such information is exempted from disclosure under Section 8 (1) (a), (d) and (e) of the Right to Information Act, 2005 (hereinafter, the 'Act'). Writ Petitions filed in the High Courts were transferred on the request of the RBI to this Court. . . . . A close scrutiny of the applications for recall makes it clear that in substance, the applicants are seeking a review of the judgment in Jayantilal N.Mistry (supra). Therefore, we are of the considered opinion that these applications are not maintainable."
In other words, the RBI and the banks must disclose details of investigation reports and loan payment defaulters.  This is because the relationship between bank customers and the banks – or the RBI and taxpayers – is not fiduciary in nature, and certainly not the way discussions between lawyers and clients, or doctors and their patients are.
Hopefully, this will pave way for more transparency and reduce the incidence of bank frauds.
A myopic vision for political dividends has made the government even try ways to wreck the dairy industry (http://www.asiaconverge.com/2021/02/budget-2021-has-little-for-animal-husbandry-and-marginal-farmers/), and to introduce farm laws that weren't even necessary (http://www.asiaconverge.com/2020/12/farmer-agitations-fueled-by-corruption-politics-and-power/). If the dairy sector is tinkered with further, the entire rural story will end in a tragedy.
Each time, glib justifications are offered.  Fortunately, in the recent past, the facetiousness of such arguments has been exposed. Obviously, legislators and executives are now squirming.
That is why, it is possible, that disgust with such hypocrisy could have been a major contributor to the ebbing of fortunes of the ruling party.
So, you have a diminishing prime minister who is constantly looking for ways to promote himself.  You have a shrinking party, which earlier wanted to drive out every opposition party from the political arena.  Now you could have a shrinking economy as well.
Had the country been growing, such attempts could have been ignored.  But when people's fortunes decline, and when death knocks at the doors of every family — thanks to the reckless implementation of pandemic control measures (http://www.asiaconverge.com/2021/05/supreme-court-rescues-india-again/)  —   the rancour was bound to become a lot more savage.
India shrinking
India, consequently, will continue to shrink. Unless the government takes remedial action immediately.  The next article will talk about what India could do.
The alternative is India going down the same route that Pakistan did 20 years ago. For more than a decade, the only clout that Pakistan enjoyed was being the easiest route for the US to enter Afghanistan.  If India is not careful, the only significance it may enjoy is becoming a US foil to China.  India needs to think beyond that.  It needs to find its mojo once again.
Comments can be posted to RNB@asiaconverge.com