https://www.freepressjournal.in/analysis/policy-watch-agenda-5-nail-biting-moments-can-india-be-revived
Agenda V – India can be revived, but much needs to be done first
(The entire series can be found at http://www.asiaconverge.com/2021/05/agenda-for-the-government-2021-series/)
By RN Bhaskar
First, they ignore you, then they laugh at you, then they fight you, then you win.
                   — Mahatma Gandhi
One just hopes and prays that Mahatma Gandhi's words turn out to be true. That the people of India will win. The first three stages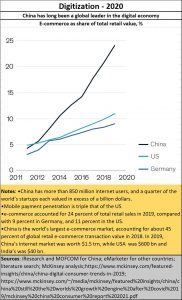 have already come to pass.  If only the fourth comes true. But for that to happen, there are several wrongs that need to be righted.
Lessons India forgot
First, at the outset, it must be stated that India can win, but only if wiser counsels prevail.  At the moment, it is obsessed with triumphalism, vindictiveness, and intolerance.
Unfortunately, myopia, demagogy and hubris have done India in, as the following paragraphs will explain.  But the biggest danger India could face is being isolated globally.
The government thought it was doing a wise thing by aligning itself with the US. There were several factors that could have contributed to this decision being made. It could have been the US permitting India to hold rallies and to connect with an exuberant Indian diaspora. Or it could have been a desire to be seen with the most powerful military power in the world.
Adulation can indeed be a heady experience.  But exuberance is often on account of a growing and surging India, not one which has seen its GDP growth rate fall year after year for seven years.  It is easy for the excitement and adulation to turn into rejection and disgust.  Where does that leave India?
India appears to have overlooked the humiliation it suffered under the PL 480 food imports six decades ago.  Lal Bahadur Shastri's vision (Jai Jawan-Jai Kisan) rescued India from that ignominy.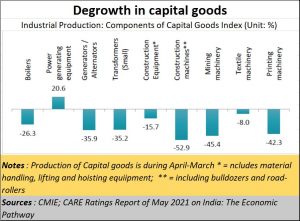 It has overlooked how Pakistan was reduced to being an ally of the US only to curb the Taliban.  India is now being befriended only to curb the Chinese.  It did not work with the US in Afghanistan. It will definitely not work with China.
When there are differences, you talk, you hammer out issues.  Even opt for mediation. You do not stop trade or resort to bans.  It only hurts the weaker country more. And everyone knows who is weaker (see chart). That is another lesson this country forgot.
Moreover, the border issue is far more complex than India's demagogues have tried to project it.  As the former army chief, General VK Singh, stated (as reported by several media sources) (https://indianexpress.com/article/india/army-chief-on-lac-v-k-singh-india-china-relations-7180450/), "India has been transgressing the LAC with China, five times to every one ingress of theirs."  Later, however, General Singh tried to retract his statement saying that his statement had been distorted (https://www.tribuneindia.com/news/nation/my-statement-on-lac-transgressions-was-distorted-vk-singh-210515).
The shrinking of options has caused India to paint itself into a corner. Already,  the Purchasers Manufacturing index (PMI) is down – a key indicator of economic activity (https://economictimes.indiatimes.com/news/economy/indicators/indias-factory-activity-growth-slipped-in-may-as-demand-fell-pmi/articleshow/83136789.cms). So are key capital goods indicators (see chart).   And the number of unemployed and poverty-stricken people has been increasing (http://www.asiaconverge.com/2021/05/povert-alleviation-a-great-service-to-mankind/).
Today, India is rapidly slipping into the same position as Tony Blair did, when he was lampooned as a poodle wagging its tail behind the (then) US President. India's economic growth is stuttering, and there could be hell to pay if the economy does not improve.
India-Russia-China
In 1909, this author had predicted that the fastest growth for India would be through a strategic alliance with Russia and China (https://www.livemint.com/Companies/wDLWbd3OWUGppEzYYC0yYO/The-Capitalist–With-increasing-water-needs-will-China-deh.html).  Even when the Modi-Xi meeting took place, the author was hopeful that this strategic alliance could accelerate the shifting of the centre of gravity Asia (http://www.asiaconverge.com/2019/10/india-china-begin-working-together/).  These hopes were rekindled when Modi visited Russia in 2019 (http://www.asiaconverge.com/2019/09/russia-india-begun-tango-pm-modis-moscow-visit-critically-important/).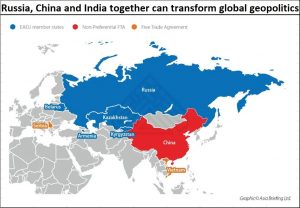 Yet, except for some defence ties, most other ties were ignored.  India's legacy investments in Russia relate to oil exploration. Russia's investments in India were partly historical. But that is changing.  Russia acquired Indian assets sold under distress. Rosneft was the leader of a consortium of investors that, in 2017, acquired a 98 percent stake in Essar Oil at a cost of US$12.9 billion.  Moreover, after ignoring Sputnik's proposals since June 2020, it has now been welcomed.  India was left with few other options.  Even overtures to the US failed.  India is learning its lessons. Finally, Russia too has made public its displeasure over India becoming part of the Quad (https://indianexpress.com/article/india/quad-russia-china-quadrilateral-coalition-japan-us-australia-7113520/).
Today, Russia is miffed with India (https://indianexpress.com/article/india/quad-russia-china-quadrilateral-coalition-japan-us-australia-7113520/) because of its excessive overtures towards the US.  Iran is upset and that could upset India's role in the strategic port of Chabahar (https://www.youtube.com/watch?v=6aoPFnFcbQs).  Iran is miffed because the US sanctions were a unilateral move, not backed by the UN.  Yet India went along with the US.  It refused to trade with Iran, while China did.  Afghanistan too has begun to value a relationship with China as being more durable than one with India which it sees as a fickle player (https://www.icwa.in/show_content.php?lang=1&level=3&ls_id=3856&lid=2935).
Suddenly, the entire tapestry that had been woven over two decades is unravelling.  India needs to stop the fraying of the edges quickly. It can be friends with the US, but it should have continued trading with others – the way China and Russia do. It should not have allowed one country to dictate other friendships and trade protocols. Instead, India may have chosen to hitch its wagon to a falling star.
India needs to have to humility, sagacity and diplomatic will to restore all these relationships, as the rest of Asia marches ahead along with China, leaving India behind.
Ignore people
One problem with India has been its willingness to ignore its own people. Yes, there are platitudes galore.  'Each of you will get Rs.5,000 to Rs.20,000 in your wallets'.  'Good days are coming'.  'Self-reliant India'.  'Development through cooperation'.
By now, the crowds are melting rapidly.  Some are dying.  Some vanish on account of disillusion.  People gather when there is good news to share.
Suddenly farmers are under attack, despite platitudes. The Cattle slaughter and beef ban got introduced — thus hurting farmers, cobblers, leather, and beef traders. What is worse, there is not a word about compensation for the farmers who lost Rs.20,000 for each aged cattle (http://www.asiaconverge.com/2021/05/agenda-1-dont-meddle-with-the-dairy-sector/). They were ignored.
Ditto with the farmers of Uttar Pradesh.  Before Uttar Pradesh elections, the BJP got Gujarat's cooperatives to set up milk collection centres just outside that state (http://www.asiaconverge.com/2017/01/uttar-pradesh-elections-budget-2017-and-milk-leather/).  It was to indicate to the farmers that they would get better prices from the cooperatives – a minimum of Rs.26 a litre instead of Rs.15-18 that the middlemen of UP were paying farmers.  But once UP was won, the farmers were ignored.  Not a hint about milk cooperatives.  Instead, cattle traders were lynched – in UP and elsewhere.  Some lost their lives.  Remember Pehlu Khan?
Derisive laughter
Echoes of didi-o-didi are still reverberating across India, not just in West Bengal.  The vilification of Tablighis as coronavirus super-spreaders has not been forgotten. Each of them was exonerated by the courts eventually (https://indianexpress.com/article/india/tablighi-case-all-foreigners-freed-court-slams-police-says-no-proof-7106554/), because the police had not a shred of evidence against them. Today, some media houses are trying to retell the story that they had actually championed the cause of the Tablighis.  An inverted form of mockery – of audiences and of the victims.
The students of Jawaharlal Nehru University were mocked with charges of being behind the tukde tukge (fragmentation of India) concept. And the Jamia Milia gatherings were accused of being anti-national.  Some have even suggested with derision that the farmers who are agitating are responsible for the second wave of the covid epidemic.
Ironically, the one party who could be spreading fake news could be the government.  It still claims to have given out to states more vaccination shots than it has purchased (https://twitter.com/poonamjourno/status/1400403813329031176?s=20).
Too many derisive sneers; too much of savage mockery.
Enemy of the state
For the past seven years, the country has witnessed a savage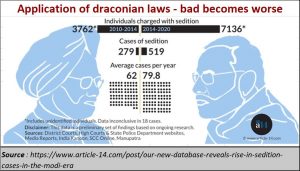 application of the most draconian laws against common citizens. Sedition – a term used by the British when they ruled India, against people who were clamouring for Independence.  This time it was being used against citizens of a free India. They were merely questioning the government. Just last week, the Supreme court dismissed all charges of sedition against senior journalist Vinod Dua. His offence: doing a YouTube video critical of the PM's handling of Covid-19.
The apex court said that all journalists are protected by the Kedar Nath Singh judgement, which had limited the ambit of India's sedition law (Section 124A of the IPC) to only those actions that have a direct nexus to violence. The ruling could lead to quick relief for other journalists — Mrinal Pande, Rajdeep Sardesai, Vinod Jose and those charged with sedition in the wake of the farmers' protest in Delhi on January 26, 2021. Others charged with the same offence include Siddique Kappen in Uttar Pradesh and Kishorechandra Wangkhem in Manipur. (https://www.theindiacable.com/p/the-india-cable-sedition-setback?utm_medium=email&utm_campaign=cta).
Article-14 (https://www.article-14.com) points out, draconian laws like those relating to sedition, have been applied more frequently by this government than by the previous government (see chart).
In another post (https://www.article-14.com/post/our-new-database-reveals-rise-in-sedition-cases-in-the-modi-era) another set of figures has been given "Six sedition cases during the farm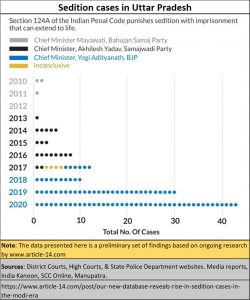 protests; 25 during anti-CAA protests; 22 after the Hathras gangrape; 27 after Pulwama: Our study of sedition cases over the last decade reveals a 28% rise in such cases—in violation of Supreme Court guidelines—especially against critics and protesters since 2014."
Uttar Pradesh
The biggest misuse of such laws has taken place in Uttar Pradesh (UP). This is also the state from which the prime minister has chosen to stand for elections. But it is a state famous for committing crimes but ensuring that nobody reports them. (http://www.asiaconverge.com/2021/04/little-governance-till-uttar-pradesh-is-tamed/).
It was grotesque to find the state trying to justify the floating of dead bodies in the Ganges by trying to pass it off as a custom observed by some people in the state.  Then what was Namami Gange about (http://www.asiaconverge.com/2020/08/government-plunder-productive-states-in-india/)?  Wasn't the dumping of even the residuals from funeral pyres forbidden, let alone entire bodies?  Or was the Rs.8,000 crore spent on the Clean Ganga project just diverted? Another state sanctioned coverup?
The extent of the coverup was highlighted through investigations carried out by the Dainik Bhaskar group (https://www.bhaskar.com/local/uttar-pradesh/news/up-gorakhpur-coronavirus-death-toll-hides-by-yogi-adityanath-uttar-pradesh-government-128472158.html), Ditto for Patna in Bihar. In May, the government there said that 446 died of Covid, but just three cremation grounds have recorded 1,648 cremations according to the Covid protocol. (https://www.bhaskar.com/local/bihar/patna/news/the-government-reported-446-deaths-due-to-corona-in-may-while-1548-dead-bodies-were-burnt-due-to-corona-protocol-in-3-crematoriums-128553554.html) .
UP has also refused to come clean on its Child Care Institutions (CCIs).  It is the only state which refused to do so when the Supreme Court – in 2013 — asked the Central Government to submit a report on how CCIs were being run across India.  This came on the heels of a CCI run by a prominent politician in Bihar
being exposed for child abuse and trafficking (http://www.asiaconverge.com/2021/04/curse-of-being-an-abandoned-child-in-india/). UP is the only state to defy this order since 2013.
Not surprisingly, the Hindi belt, UP and Bihar, remain the poorest, and the most exploited in the country (see chart).
Even today, the Ministry of Women and Child Development refuses to talk about this subject. Ironically, even Nobel award winner Kailash Satyarthi who claims to be "against the suppression of children" has refused to talk about what the CCIs in UP are up to.  The Nobel Prize Foundation in Stockholm, Sweden, also chooses to stay silent.
And one critical area in which this government (like previous governments) has failed is in strengthening the judiciary.  Judicial posts continue to remain vacant.  Many of the crucial controversial legislations – like the amendments to the Foreign Currency Regulations Act (FCRA) and the Prevention of Corruption Act remain pending.  A key cause is an overburdened judiciary. And the biggest litigant still remains the government.  The refusal to honour international verdicts could make India a pariah state unless this tendency is reined in urgently (http://www.asiaconverge.com/2021/03/the-judiciary-series/).
Black hole #1 Aadhaar
One of the most vexatious pieces of legislations passed by this government relate to Aadhaar – the 'identification' document that the government wants to replace all other forms of documentation.  But there is one big problem.  It is not an identification document in the first place.  It has been issued without following the basic process for identifying people.  In the process, millions of bogus Aadhaar cards are believed to have been issued (http://www.asiaconverge.com/2020/02/aadhaar-cards-populations-many-ways-rig-numbers-financial-transactions/).
Black Hole #2: Election Commission
Equally vexatious is the way the Election Commission (EC) has indicated its preference for Aadhaar which could even distort democracy:
Some more black holes
There are many other questions that the government has not cared to respond to.   But the search for answers can begin only after the government allows free flow of information (http://www.asiaconverge.com/2021/05/genghis-khan-dont-shoot-down-the-messenger/).
In conclusion.  India can win.  But many things need to be done quickly for India to emerge victorious.
Comments can be posted to RNB@asiaconverge.com