Chandana Devi's dedication changed her life.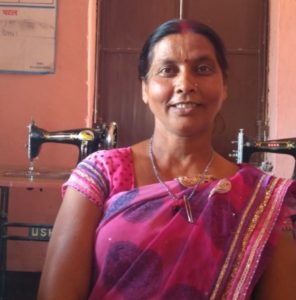 One of the students life got transformed through gaining life skills at ASDC. Ms. Chandana Devi, a 39-year-old, resident member of Motia Village is one of the ASDC- Tailoring students. She lives with her husband and a son. The lone bread earner of the family was her husband through running private tuition classes. The limited amount of income generated on a monthly basis could not suffice as the family need to support her son in graduation at Godda college. During the year 2017 Adani Skill Development Centre established the Tailoring centre at Motia village for rural women where Ms. Chandana Devi got enrolled herself in Sewing Machine Operator training course so that she can earn her livelihood and support family.
The rigorous efforts and dedication given by Chandana devi towards her training program paid off as she picked up tailoring tasks as her profession now. Her commitment to bring changes in her life as well as her family helped her to purchase a sewing machine for her by collecting the entire income saved from her earnings for future use. Since March 2019, she also has received work orders for stitching government school students uniform of Godda district. Over a period of two months, she has been able to earn Rs. 10,000/- by stitching Shirt, skirts, and pants.
Comments can be posted to RNB@asiaconverge.com