Dhanshree was one of the most active students in her batch.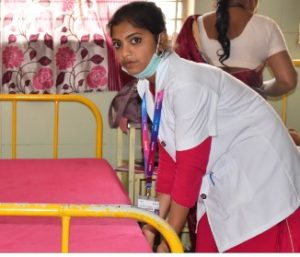 Dhanshree K. Meshram a bright 20-year-old girl belongs to a small village of Dhanod of District Bhandara in Maharashtra. She got the information about Adani Skill Development Centre through her friend. Dhanshree immediately decided to enroll under the programme. She enrolled into the three month General Duty Assistant course under the hospitality domain where day by day, she learned about the sector and its nuances , the skills necessary to succeed and began to find herself growing in confidence.
During her academic years, Dhanshree faced several hurdles as she strived to complete her education. She lives with her mother alone. Her father as passed away when Dhanshree was 3 year-old. Dhanshree's mother is labour and she earn Rs.4500 per month which is very less to run the family.
Dhanshree was one of the most active students in her batch. After successfully completing the training programme she got her first job as Portea Health Care Mumbai with the CTC of Rs.9000 per month. Dhanshree said "I feel so happy and proud that I can support my mother financially. All things are possible with the help of Adani Skill Development Centre Tiroda."
Comments can be posted to RNB@asiaconverge.com