Meenaben Utpalbhai Patel learnt about various business aspects from Saksham ,ASDC.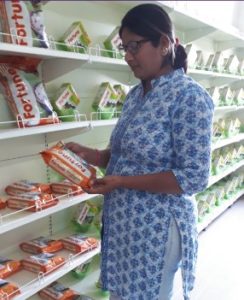 An entrepreneur who was earning merely Rs. 1200/- per month and after training and handholding from Saksham, she is now earning between Rs. 25,000/- to 30,000/- per month.
I got to know about "SAKSHAM" from Shree Patel Pragati Mandal and enrolled in Retail Sales Associate course which includes Entrepreneurship Development Program sessions. In this course, I learnt so many things like business techniques, how to grow business, how to count our profit margin, How to make Profit, etc. I learnt basic business tactics and calculations. Apart from all these, I also learned to speak in English, basic computing, personality development and grooming as an entrepreneur.
After Completing EDP course, Saksham supported me in getting a loan for buying sewing machine and I started my tailoring business. Now I have 7 machines of my own with and I am running 2 batches per day and 12 students per batch. Now, I am earning Rs.25,000/- to 30,000/- per month and I have planned to start my own boutique soon.
I would like to thank "ASDC – Saksham" for giving me such a great opportunity to  develop my skills and making me Saksham for my bright future." Says Meenaben.
Comments can be posted to RNB@asiaconverge.com