Omprakash believes that life is a daring adventure.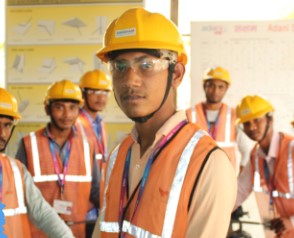 I was a hopeless boy doing nothing at my home. My father is working as a labour and hardly earn 5200/- per month. There are six members in my family who depends on my father's income so he was not able to full fill the basic requirement of my family therefore I had to discontinue my study after 12th class. I was a struggler during school time, which deteriorated my confidence and zeal of learning. My introvert nature worsen my spirit of competition and I have almost given up in my life. My parents too were worried about my future.
Mobilizer from Adani Skill Development Centre were conducting a meeting in my village. I also attended the meeting and I came to know about ASDC training program. During the counseling I have selected course for Welding Technician and I have attended all the classes regularly. After the completion of my course I found many improvements in myself. Welding seem to be an easy task, but its not. It takes physical as well as mental fitness to be competent at work. I have not only gained technical knowledge about welding do's and don'ts but also developed multiple intelligence during my sessions at Adani Skill Development Centre.
Currently I am working in Givadan Automotive (India) Pvt. Ltd. Ranjangaon, Pune as Welder Technician and earning 11,000/- rupees per month. Thanks to ASDC, who gave me an opportunity for change, my life.
Comments can be posted to RNB@asiaconverge.com