https://m.freepressjournal.in/article/india/priorities-for-the-govt-war-bihar-or-atma-nirbharta/915423be-fdae-459f-b88d-87399e5db574
Priorities for the govt: war, Bihar, or atma nirbharta?
RN Bhaskar — July 9, 2020
Politics can be a great distorter of truths because it is often based on optics.  And as Henri Bergson said about comedy, it is like froth.  It sparkles.  But the cynic who gathers it finds the substance scanty, and the aftertaste bitter.
The way the prime minister declared that he would address the nation at 4 pm last week confirmed that he is focussed on electoral outcomes in Bihar. Yes, he did make a passing reference to war.  But the rest of his talk was on providing free grain to the poor.
He was obviously mindful of the fact that most of the migrants who suffered grievously because of poor planning both by the centre and the states were from Bihar.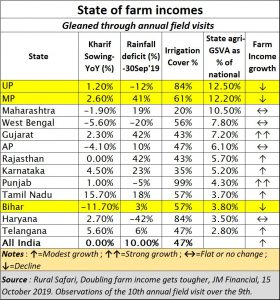 Bihar, and war, could have been on his mind in in Ladakh as well.  After the PM delivered his rousing speech, it came to be known that he was at least 230 km away from Galwan, in a town called Nimu.   So, was this visit too for Bihar's voters?
Bihar is important because it along with Uttar Pradesh and Madhya Pradesh are the three states (of the 13 states surveyed) which registered a drop in farm incomes.  Since 80% of Bihar's population is engaged in agriculture (https://www.ibef.org/states/Bihar.aspx), the influx of migrants into Bihar will make the situation worse. The pain points will rise sharply.  Even the little money Bihar earned through tourism has gone. Bihar is home to the holiest of Buddhist places, and both Japanese and Chinese pilgrims made regular trips to these spots. Now even tourism is dead.
Clearly, things haven't gone swimmingly well for the current government ever since it was swept into power once again in 2019. The economic downturn has only got worse. The poor management of the Covid-19 crisis by many states and the centre has left the country quite bruised, and it will take some time for the wounds to heal.
Worse, the conflict with China could end up bleeding India a lot more than the government might have envisaged (http://www.asiaconverge.com/2020/06/geography-history-economics-culture-demand-india-and-china-work-together/).  The government has stopped the one avenue through which investments could have poured in.  It may save the country the $56 billion trade deficit, but cost of doing so could be many times higher, especially at a time when India can hardly afford it, and also when few other countries are likely to offer financial support to India.
Ironically, foreign funds have come into India, but not into areas where they should have gone.  This could be because of the much-abused amendment to the Prevention of Corruption Act in 2018, when the government slipped in the modifications when opposition parties staged a walkout (http://www.asiaconverge.com/2018/08/amendments-to-prevention-of-corruption-act-protect-corruption/).
The amendments now permit political parties to receive funds from foreign sources, without having to explain such sources to anyone.  The most obnoxious part of these amendments was that they exempt political parties from scrutiny with retrospective effect for 42 years.  The irony could not have been more bitter.  Here was a nationalist party, advocating atma nirbharta, but allowing foreign funding of political parties.  Clearly, you cannot have one rule for a political party and another for a citizen.  It stinks.
Most political parties privately admit that this was a terrible legislation to have been passed into law.  But no legislator has yet protested about it — either through the courts or through the legislature.  The only protestors are public spirited NGOs.  Double standards, in the name of atma nirbharta.
There is yet one more piece of legislation that has rankled concerned citizens. This too is an amendment to the Prevention of Corruption Act.  It made penalties and imprisonment stiffer for both bribe-takers and bribe-givers.  While, prima facie, the new rules appear to be a move towards stemming corruption, in reality it has made people stop complaining about bribes paid, because they too could get arrested (http://www.asiaconverge.com/2018/08/the-government-protects-bribe-takers/).
And if the track record of arrests is considered, the bribe-giver is more likely to end up into prison, rather than the bribe-taker.  The former Chief Economic Adviser Kaushik Basu wrote a paper (http://www.kaushikbasu.org/Act_Giving_Bribe_Legal.pdf) explaining why the bribe-taker should be pushed more severely than the bribe-giver, especially when the bribes were paid for jobs that the government was meant to do without any delay –  like the issuance of birth certificates, death certificates, land papers etc.  Neither the earlier government, nor this one, has heeded that advice.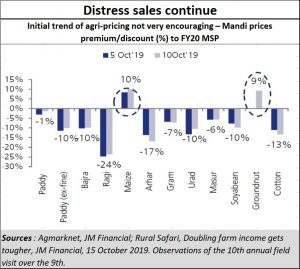 As a result, corruption at lower ranks has soared to unbelievable levels.  It has affected even mortuaries and cremation grounds, where death certificates are not given, cremations not done, and corpses not released, till a bit of money changes hands.
Nobody dares complain because the stakes are high; and the penalties for the bribe-giver are frightening.
State governments have winked and nodded at such infractions, often with the help of the police.  So, when a policeman is caught committing a crime, he is merely suspended, then reinstated, when public memory fades.
In Tamil Nadu policemen guilty of custodial deaths were suspended, till the courts ordered them arrested.  In Maharashtra, the policemen responsible for the custodial death of Khwaja Yunus have actually been reinstated.  Abetment of corruption has further weakened common people. That, in turn, has further cut into the dwindling incomes of both farmers and the middle class.
But come back to Bihar. Distress sales are not uncommon among poverty-stricken farmers.  Such distress sales are engineered by traders known to be close to politicians. Even the Food Corporation of India (FCI) procures only rice and wheat, that too from well-connected farmers, at prices that are often higher than required (http://www.asiaconverge.com/2020/05/atma-nirbhar-and-agri-markets/).  The marginal farmer without political linkages is often left to the mercy on rapacious middlemen.
Consequently, don't be surprised if bulk of the money meant for economic revival of the rural areas gets diverted to the three states that matter most politically – UP, MP and Bihar.  All the three are poor.  They have seen a drop in farm incomes. This will effectively mean that other taxpayers – notably from the South and the West — will bail out the politically impoverished states.  Good money will be poured over bad.  India will be made poorer.
With funding from China being stopped, what the government should be doing is to stop giving speeches. Instead, it should seek out other sources of funds immediately.  It should reform the system that does not permit contracts to be honoured (http://www.asiaconverge.com/2020/01/arbitration-and-investment-protection/), which decriminalises bouncing of cheques, now seeks to dilute the Insolvency and Bankruptcy Code and change the rules of business to favour a few businessmen.  Crony capitalism is alive and kicking still!.
If you want an atma nirbhar Bharat, begin with getting money to flow into India, not into the coffers of political parties or a few businessmen. Bring in more transparency, including the audit of the PM Cares Fund.
India cannot afford to become poorer than it already is.  Can something be done on this front instead, on a war footing?
Comments can be posted to RNB@asiaconverge.com