Power generation is as critical to humans as water, education, and healthcare. The government has goofed badly on all these front

At first glance, India has done quite impressively on the power generation front.  Statistics from the Central Electricity Authority, or CEA, (https://cea.nic.in/) tell you about the government's achievements on all fronts relating to power generation.  But is this true?
Let's begin with the achievements. Installed capacity has swelled from 1.3 gigawatt (GW) in 1947 to well over 416 GW in 2023.
Yet, scratch the surface and you will soon discover how this sector has been blighted by politicians. They have done this to gain favour with voters by offering them power at discounted rates, and sometimes even free.
Not surprisingly, this sector is once again on the verge of bankruptcy. Since most power generation units — prior to the economic liberalisation in the 1990s — were owned by the government, the drain was on the national exchequer.  The situation became worse because the government also owned most of the transmission and distribution companies. The lack of money — which should have come through electricity bill collections — almost made the transmission companies (transcos) and the generation companies (gencos) go belly-up.
Liberalisation brought in frsh investments from the private sector, and the new energy policy framed rules requiring gencos and transcos (irrespective of them being private or government-owned) must be paid in advance.  The politicians scuttled such moves as well. And instead of paying up immediately, they began postponing payments.
When the Modi government came to power, it was hoped that this would change.  After a brief spell of sobriety, when no freebies were allowed, all such caution and responsibility were thrown to the winds. It accelerated after the Uttar Pradesh elections were announced. It was not long before the power sector too got contaminated, once again.  As a result, many other investments in the power sector have not been made – like upgrading transmission lines (https://www.business-standard.com/opinion/editorial/powering-a-shortfall-123090401250_1.html?1693847186).
But more serious than all this are trends that suggest that politics, not economic sense, will continue to drive the fortunes – or woes — of this industry.

Per capita woes
The first casualty is per capita energy consumption.
So, while the country was made to watch India's GDP growth, nobody told the government that per capital growth was not as impressive.
That it did not really matter whether India is #3 or #5 in the world in GDP terms, so long as people got more to eat and drink.  They also need education (free subscription – https://bhaskarr.substack.com/p/the-state-of-education-in-india) so that they too can climb the value chain and become truly atma nirbhar (self reliant). They want decent healthcare as well.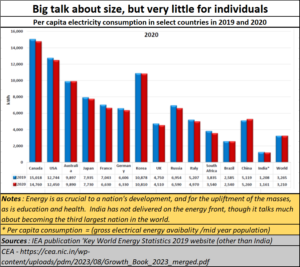 The politics of appeasement means that there is little money for any of these crucial inputs that the common man needs – good water (India abuses and misuses its water), education and healthcare.  Food is the only thing that the government really takes care of. It does so through cheap (read subsidised to the point of being free) supplies through ration shops and now through direct benefit transfer schemes.
The 'poverty' of the Indian became even more stark when one began comparing India with other nations. No long was it #3, or #5 or even #10.  India was way down the ladder.
It is then that you realise that the common man had been short-sold.
Could the situation have been different if the right policies been followed?  The answer is a resounding yes.  Flawed policies had left the common man without much power, eduction or even healthcare.
Watch how the centre suddenly assumes the pre-eminent position in power generation.  Gone are the words like "Less government, more governance".
What could have compelled the government to assume significantly larger responsibilities in the power sector?
There are three reasons for this.
Power generation is a big-ticket item.  If there is a kickback, larger ticket sizes matter.
Controlling the power generation sector allows the owner (namely the government) to give away more freebies.  That becomes a bit difficult when the private sector is involved.
States do not have enough funds, while the central government always has access to larger funds.  These can be extended to favoured states, desired sectors, and even a carefully nurtured section of voters.
Thus, the basic flaw in the power sector has assumed significantly larger dimensions.
The UDAY blunder
And this is where the second flaw kicks in.  That is of crafting policies that are inherently flawed, though politicians try to push them through with nonchalance and bluster.
One of the first flawed policies was UDAY or the Ujwal Discom Assurance Yojana.  The ministry of Power hailed it as a pathbreaking policy initiative.  But any serious student of economics could see through the basic flaws.  This author wrote about these flaws in  April 2017 (https://asiaconverge.com/2017/04/uday-and-politics-of-appeasement-and-largesse/) and later in id 2018 (https://asiaconverge.com/2018/09/discom-losses-continue-to-bleed-the-country/).   The basic flaw was that it did not take into account that the total money received – through any channel – should be greater than the total cost of energy (generation + transmission + distribution. This simple logic escaped even CRISIL, the largest rating agency in India.  It touted its virtues and said that UDAY was a a program aimed at financial turnaround and revival of electricity distribution.  The eulogy that was available on the CRISIL website  earlier at https://www.crisil.com/Ratings/Brochureware/News/Discom-losses-to-nearly-halve-by-fiscal-2019-on-reforms.pdf is no longer available. But a press release can be downloaded from https://www.crisil.com/content/dam/crisil/pr/press-release/2017/12/square-one-discom-debt-to-reach-pre-uday-levels-this-fiscal.pdf .
In August 2023, the office of the Comproller and Auditor General (CAG) also stated that  the main objective of the financial and operational turnaround of the Maharashtra State Electricity Distribution Company (MSEDCL) was not achieved in spite of implementing UDAY (https://indianexpress.com/article/cities/mumbai/in-spite-of-uday-no-rise-in-power-companyturnaround-8877264/).
The power minister was later responsible for a short sighted policy relating to milk imports from New Zealand (https://asiaconverge.com/2019/08/indian-bureaucrats-almost-shortsold-the-milk-industry-at-fta-cpec-negotiations/).  This time, a backlash from the farm community made him backtrack.
If one bad power policy was not enough, there was yet another in the making, in 2018, called PRAAPTI (https://asiaconverge.com/2018/06/praapti-transparency-tokenism-decide/).  Even this was destined not to deliver because its basic fundamentals – of collecting from customers or the politicians an amount that was more than what it cost the sector to generate, transmit and distribute power.  Since the largest player was now the central government, the best schemes involving subsidies were promoted by the centre, and the bills remained upaid.
Expect another round of bankruptcies or bailouts to take place soon.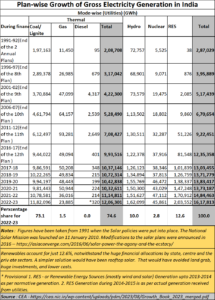 Ignoring rooftop solar
One major flaw is the government's refusal to promote rooftop solar as aggressively as it ought to. Today, renewable energy sources account for barely 12% of the total energy basket in India. Of this, rooftop solar is expected to account for barely 10%.  In fact, rooftop solar should account for over 75% of this basket, and the notes below will explain.
There are at least seven reasons why rooftop solar should be promoted.
As an interview with Biplab Kumar Deb, then chief minister of Tripura showed (https://asiaconverge.com/2019/03/biplab-kumar-deb-has-big-plans-for-tripura/)  the installation of 50,000 rooftop solar installations in Tripura showed, the cost per installation was just Rs.50,000, compared to a capital cost of Rs.5 lakh per household if grid line connectivity were to be given (https://asiaconverge.com/2019/10/solar-energy%e2%80%88ministries-practice-deceive/). The Tripura chief minister fitted 50,000 households with roof top solar units, almost in defiance of the Union minister's request that grid connectivity be promoted. Eventually, the 50,000 installations showed up other benefits.
A roof top Solar installation offers the shortest distance for transmission of power from the roof to the household.  The transmission and distribution losses, therefore, are the lowest.
Roof top solar is more reliable than grid connectivity, because there is no wire theft, no meter rigging and almost no power theft.
The costs are essentially one-time capital costs.  There is no billing thereafter, except for routine maintenance. The batteries could be rudimentary batteries taken from old vehicles, and topped up with water routinely.  With no billing, there is no recurring subsidy, hence cheaper for governments.
Rooftop solar does not require land.  India cannot afford to give away land banks for solar farms.  This is because, unlike other countries, India's population density will mean more pressures on land. Inda has a density of 422 persons per square km.  Compare this with 145 in China, 34 in USA, 180 in Nepal, 338 in Sri Lanka and 274 in Pakistan.  In Russia it is an abysmal 8 per square km.  When these countries opt for solar farms, it is understandable.  India clearly forgot that population density matters immensely. So, when India blindly adopts solar farms, it is nothing but recklessness.
There are enough reports which say that India will need at least 400,000 hectares of land for its solar needs if one goes by the solar farm route (https://india.mongabay.com/2023/09/the-balance-between-expanding-renewable-projects-and-feeding-indias-population/?amp=1 ).  It is nothing short of land-grab. As Mercomindia points out (https://www.mercomindia.com/policy-tweaks-achieve-indias-solar-target) India will need to add 30 gigawatt (GW) of solar energy capacity to meet the 280 GW solar installation target by 2030.  Cumulative rooftop solar installations were a mere 9.6 GW as of June 2023.  Rooftop solar installations are possible even if huts do not have a firm roof.  All that is needed is a pole on the top of which a solar plat is added. Effectively, India's solar farm plans could actually threaten this country's food security as well (https://www.devex.com/news/is-india-s-renewable-energy-push-a-threat-to-food-security-105693).
Lastly, rooftop solar systems offer the biggest bonanza that a region can have – employment and promotion of small enterprises. And this is a lesson that the government totally overlooked.  This is terribly unfortunate.  India already suffers one of the most severe unemployment in this part of the world (https://asiaconverge.com/2023/03/india-tries-to-regain-its-balance/).
The German lesson forgotten
In 2011, this author wrote about the amazing discoveries of (the late) Hermann Scheer, then minister of energy in Germany (https://asiaconverge.com/2011/02/hermann-scheer-german-model-thats-perfect-india/).  Scheer who introduced the concept of rooftop solar and feed in tariffs (FIT) to the world in 2000, discovered that this type of solar offered other benefits as well.  By 2006, he discovered that the rooftop solar sector had begun to employ more people than even the automobile sector.
Now, India has more land, more sunlight, and even more households – hence rooftops.  Wouldn't this work marvellously here? Back of the envelope calculations in 2017 showed that India could generate at least 80 million jobs within a few years, and spawn thousands of small enterprises as well, if the roof top solar model were adopted and promoted (https://asiaconverge.com/2017/12/sabotaging-rooftop-solar-and-employment-generation/).
The only reason why politicians do not like this model is because it takes away their opportunity of giving free power in exchange for votes.  It takes away the money that power engineers can make through theft of wires and even energy.  And it allows the government to splurge Rs.5 lakh per rural household connectivity instead of incurring a one-time capex of just Rs.50,000.
Combine all these distorted ways of thinking with the government's meaningless plans for harnessing the country's demographics, and its confused exim policy (free substack subscription https://bhaskarrn.substack.com/p/can-the-inr-slip-further?sd=pf) and you have the making of a crisis that is bigger than anything this nation has ever seen.
The irony is that a time when China is talking about its Belt and Road, and Europe is talking about galvanising economic output, India is provoking discussions on Bharat (the government has suddenly begun using Bharat in its name tags for its ministers and its president) and religious beliefs. Neither of these is helping boost economic prosperity.
India will thus have to go through a great deal of pain and disillusionment on account of these follies.
Comments can be posted to RNB@asiaconverge.com