https://www.freepressjournal.in/analysis/policy-watch-a-muted-30th-anniversary-for-india
A troubled 30th anniversary of India's economic liberalisation
RN Bhaskar
Last week, the nation celebrated its 30th anniversary of economic liberalisation.  The year 1991 was when India actually dared to break away from the shackles that had fettered its growth. That was when, as the then Prime Minister Dr. Manmohan Singh put it, India celebrated and cherished the words of Victor Hugo — 'No power on Earth can stop an idea whose time has come'.  It was a time to dream. Even to dare.
Nostalgia and regret
India's increasing strengths even made China come to the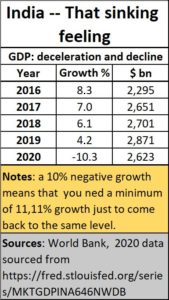 discussion table in 2005 and share its own maps – which it had not done all along (https://asiaconverge.com/2021/04/indiaslips-on-asian-leadership/).   It was a recognition of an India which could aspire to become one of the top three nations of the world.
That was when — as Shyam Saran (former Foreign Secretary to the government of India) explains (https://www.youtube.com/watch?v=CEI0tAJAtEk) — India was growing stronger.  Today, its leadership even in the Asian region is rapidly slipping.
Today, Dr. Singh remembers other lines, rather wistfully, "But I have promises to keep, and miles to go before I sleep."
The daring has mellowed.  The dream has become a fantasy.  And many keep their eyes averted from the brutalising reality of everyday life on India's streets.  Thirty years ago, India was soaring – under three successive governments of Narasimha Rao, Atal Bihari Vajpayee and the first term of Manmohan Singh.  Today, India looks more hobbled than in 1990. Today, for the past five years in succession, India is decelerating.  Last year, it shrank (see chart).
The chains are different.  But the weariness appears a lot greater.  It is possible that the burdens India bears, are greater than in 1990.
India shrinking
There is little doubt that India is shrinking (https://asiaconverge.com/2021/05/shrinking-modi-bjp-even-india/), The government may like to blame Covid for its misfortunes.  But the slowdown began more than five years ago. Even before Covid.
Reverse gear
One reason is that its policymakers have begun pushing India into reverse gear.  According to this author, India's economy began stumbling ever since the cow slaughter bill was introduced and then made a law subject to ratification by states.
Almost all the southern states of India, and most of the easter and north-eastern states of India have not enforced this ban, and for good reason.  These are the states least affected by the cattle slaughter ban.  The Tirupur leather processing units continue to function. They have weathered demonetisation, and the shrill cries of vigilantes calling themselves gau-rakshaks.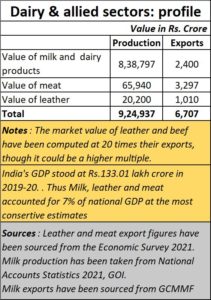 There are three things wrong with the cattle slaughter bill.
First, it forbade farmers from selling their old cattle to the trader who in turn sold it to the slaughterhouses. The ban hurt many farmers in two ways.  First, it did not allow them to get an income of around Rs. 20,000 from the sale of each old cattle. If the state wanted to protect cows, it should have compensated farmers by offering them Rs.20,000 for each cattle that he could not sell (https://asiaconverge.com/2021/05/agenda-1-dont-meddle-with-the-dairy-sector/).
Second, the government should have decided to pick up the ageing cattle from the farmer so that he is not burdened by additional medical costs and the danger of old-age-related-diseases spreading to existing cattle.  If people believe that money can be made from the old animals, let them adopt them.  Don't burden the farmer.
Third, the ban on cattle began affecting the leather and beef trade as well.  Three sectors, all major employment generators, were hit.  That in turn affected employment and demand for a variety of items.  This is more so with dairy farming which affects 10 crore households, or 50 crore individuals (the census puts average household size at 5).  That is more than one third of the total population of India.  And it is large, three times larger than wheat and rice put together.
Clearly, the cattle slaughter laws are a big setback to the Indian economy.  Moreover, other moves like subsidies threaten to wreck the industry which has grown without any government support. Today, India is the largest producer of milk in the world, and a big contributor to nutrition. If things continue this way, expect India to slip badly, much to the delight of countries like New Zealand, which has begun worrying about India's formidable position in global dairy farming.
Demonetisation was the next big blow.
Both these moves put the country into a reverse gear.  Then other factors also kicked in.
Lack of vision
Another reason for the government slipping badly is its utter lack of vision in areas other than the promotion of Hindutva and the consolidation of power.
The government has worked hard to reduce access of economic information to its people.  Consequently, even replies to Rajya Sabha and Lok Sabha queries are not easily accessible today.  The policymakers think they know what is right, and people do not need to know the exact state of numbers.  That is a terrible mistake (https://www.freepressjournal.in/fpj-initiatives/covid-19-spurs-decline-in-labour-participation-rate-in-india).
Let's take human development.  Yes, the government talked about skill development.  But in the same breath, it has crippled education.  The autonomy that was promised to IITs and IIMs is being gradually eroded.  Talk of reservations, increasing the number of campuses to meet political objectives, and interfering with administration have ensured that none of India's educational institutions now feature in the top 100 globally (https://asiaconverge.com/2021/06/can-africa-become-the-new-market-to-stump-india/).
Its failure to even fill appointments of vice chancellors in government-controlled universities is pathetic.  Last week, the government appointed the vice chancellors of 12 central universities. But there were 22 vacancies.  The rest will have to continue waiting.  Compare this with the alacrity with which legislative seats are filled.  The need to get legislators in place is a more urgent need that university administrators (https://indianexpress.com/article/education/president-appoints-vice-chancellors-of-12-central-universities-7418546/).
And at the school level, the government refuses to measure outcomes of schools and teachers.  Unless it weeds out the rotten, it will waste students' time, and taxpayers' money.
It abolished the MCI (Medical Council of India) to address the needs of medicare, but only consolidated it power.  Till now, it has not moved to increase medical seats (https://asiaconverge.com/2020/08/the-national-education-policy-has-little-vision-less-strategy/).  Not even after the huge gaps that were clearly visible when the pandemic struck India.  India's doctors as a ratio of population remains one of the poorest in the world. Yet it went about announcing the Ayushman Bharat programme – the largest medical insurance programme worldwide without doctors (https://asiaconverge.com/2018/08/ayushman-bharat-great-concept-doctors-overlooked/).  Clearly, the government loves grant announcements, but not performance or effectiveness.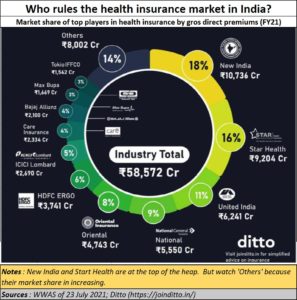 For instance, the government should have worked at making preventive healthcare more effective through the popularisation of diagnostics and pathology.  It could have asked IRDAI, the insurance regulator, to work out a scheme by which insurance companies, hospitals and diagnostic companies could work with each other.  Insurance companies have money, the expertise and know how to make best use of existing capacities.  Diagnostic companies need volumes, and the insured could be given these facilities at – say – one-third the cost.
Already, insurance companies overseas are attractive customers from India.  They offer better and cheaper packages (https://economictimes.indiatimes.com/industry/banking/finance/insure/hnis-jumbo-life-covers-overseasunder-lens/articleshow/84663064.cms).  The situation has prompted the government to unleash the Enforcement Directorate on such Indian businessmen.
It should instead have worked on ways to make its own insurance packages better and more effective. The temptation to use the ED as a means to address policy gaps is an embarrassment and a huge inconvenience.  It will drive capital away from India.
The chart alongside shows that even while there are large insurance companies, there are huge gaps, and smaller insurance companies have already begun to account for 14% of the market share.  Obviously, given the low penetration rates and the huge need, the government should have woken up earlier.
Without investing in Human Capital, can it expect India to grow faster?
The cash is there, but the trust isn't
As the chart alongside shows, many large companies have cash at their disposal.  But they are not investing it, because they do not have faith in either the government's policies or the market's stability.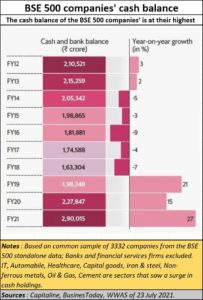 Ideally, the government should work on the basis of discussions and consensus.  But as a media report analysing Dr. Singh's remarks on the 30th anniversary of linearisation shows, the desire to build consensus, and arrive at a better coordinated solution to problems is just not there (https://economictimes.indiatimes.com/news/india/why-todays-india-isnt-ready-to-embrace-1991-style-economic-reforms/articleshow/84698925.cms ). Unlike, as in 1991, the government isn't ready to develop a consensus behind liberalising reforms. The bureaucracy isn't functioning as it once did, vetting proposals and building cross-party consensus.
In Modi's first term, only a quarter of the bills introduced in Parliament were referred to expert committees — far below the 71% and 60% rates of the previous two governments.  The figure is currently 10%.  The vexatious agriculture bill was just not referred to expert committees.  Imperiousness has prevailed over common sense and good governance.
Yes, Dr, Manmohan Singh is right to be a worried man.  He knows that this is not an anniversary to celebrate. He articulates the worry of most citizens who have begun wringing their hands anxiously.  No income, jobs, or assets (NINJAs) is what many described Americans after the 2008 financial crisis.  This government is rapidly hurtling India into the state of NINJAs.
Comments can be posted to RNB@asiaconverge.com